Ex-directors of Mexico's CFE energy company prepare legal defense in WhiteWater Midstream corruption probe
The Special Anti-Corruption Prosecutor of the Attorney General's Office is investigating former officials Guillermo Turrent and Javier Gutiérrez, while a US federal court is reviewing a related case opened by the state-owned firm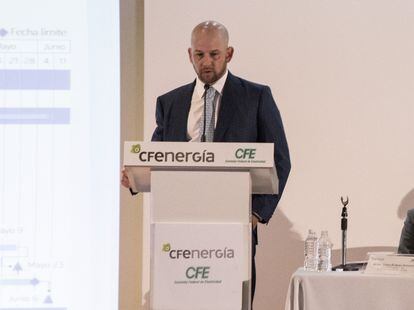 Guillermo Turrent and Javier Gutiérrez, former executives at Mexico's state-owned electric company, the Federal Electricity Commission (CFE), are appearing this month in hearings before the Mexican Attorney General's Office where a judge will decide if they should face criminal charges in possible corruption cases regarding natural gas contracts, including ones awarded to the US company WhiteWater Midstream. For their legal defense, Turrent and Gutiérrez hired criminal lawyer José Luis Nassar, known in Mexico for his representation of controversial public figures.
As reported by EL PAÍS last month, the CFE opened a case in a US federal court to obtain more information about the relationships between Turrent, Gutiérrez and Matthew Calhoun, a founder of WhiteWater Midstream, which became Mexico's largest natural gas imports supplier during the administration of former President Enrique Peña Nieto. The US case, independent of the Mexico legal process, includes a document of nearly 1,100 pages that details the efforts of the former government officials to award multiple contracts to the Austin-based company, founded by Calhoun, which had no previous experience in the energy industry. One of the contracts in question, for example, was awarded to a WhiteWater subsidiary created just three days prior.
Nassar, the legal representative of Turrent and Gutiérrez, is a well-known criminal attorney who defended Raúl Salinas de Gortari, brother of former president Carlos Salinas de Gortari, who was accused of murder in 1995. He has also represented Mexican soccer player Rafael Márquez, accused of supposed ties to organized crime, and the former governor of the Nayarit state, Roberto Sandoval, who was arrested last year for conducting operations with illicit financial resources. Nassar's law firm has also represented Luis Cárdenas Palomino, a former director of the Federal Police, arrested for his alleged role in torture.
This month, hearings are taking place before the Special Anti-Corruption Prosecutor of the Attorney General's Office to determine if Turrent and Gutiérrez will face criminal charges for their role in awarding several natural gas contracts during their time as officials at CFE. Turrent was the CEO of the private arm of CFE in the US, known as CFE International, where Gutiérrez served as the chief operating officer. The contracts in question were awarded following the Mexican energy reform of the Peña Nieto administration, which opened the sector to foreign and private investment.
CFE alleges that Turrent and Gutiérrez violated the Mexican Constitution, as well as criminal and procurement laws, in awarding contracts valued at hundreds of millions of dollars to WhiteWater Midstream and its subsidiaries and affiliates without conducting a proper bidding process and with conflicts of interests given their preexisting relationship with Calhoun. The federal case in Texas includes testimony from Fernando Aponte, a lawyer, and current Chief Litigation Affairs Officer at CFE International, as well as a US private investigator, in representation of CFE. Gutiérrez signed certain CFE contracts "while asserting the wrong power of attorney and without proper public notarization, which constitute significant legal deficiencies under Mexican law," Aponte said in his testimony submitted to the US court.
"I further discovered that, in connection with the procurement of the Waha Connector agreements, there was no evidence of any procurement process that would have guaranteed the best terms for the Mexican state had taken place," Aponte said, according to the testimony. Waha Connector is the name of a pipeline operated by WhiteWater.
"Additional review of communications and the background of the contracts revealed that WhiteWater Midstream, the company which was awarded the Waha Connector agreements, lacked the requisite experience and credit history for such contracts to be awarded properly and that the provisions of the contracts were not competitive and materially hurt CFE," Aponte said in his testimony. "At the time these contracts were awarded, WhiteWater had been in operation for only a few months and WhiteWater Midstream affiliates, also awarded the contracts, had been in operation for three days."
Aponte added that "Gutierrez and Turrent committed to award WhiteWater Midstream these contracts prior to soliciting or receiving bids from other entities. As such, the Waha Connector agreements were awarded to WhiteWater Midstream in the absence of the analysis required by law to ensure the state receives the best market conditions available."
The US court case documents also mention former CFE executive Emilio Cosio, who according to testimony submitted and CFE findings, was involved in the negotiations between CFE and WhiteWater. Cosio, Turrent and Gutiérrez appear as managing members of an Austin-based company called 3V Energy, founded in November 2019, according to the website OpenCorporates.com. According to a source familiar with the company, 3V, prior to closing last August, sought to sign contracts with the CFE. WhiteWater is also based in Austin.
In the US, the CFE began investigating dealings with WhiteWater following publication of an EL PAÍS story in July 2021 that revealed Turrent, Calhoun and another executive of WhiteWater had known each other for more than 20 years, dating back to their time working together at Royal Dutch Shell. The three appear in documents that are part of a case of possible manipulation of electricity prices in California, which remains open at the US Federal Energy Regulatory Commission (FERC). EL PAÍS revealed that WhiteWater employees worked together in the CFE offices in Mexico as "consultants" months prior to awarding the Texas company with a massive natural gas supply contract, according to three internal sources at the state electricity company.
CFE and WhiteWater are currently involved in an international arbitration process after the state electricity company refused to pay the Texas company for gas purchased in February 2021, when temperatures fell to record lows in the southern US. The low temperatures froze natural gas production and distribution installations and prices for the fuel skyrocketed.
Bilateral relationship
In July 2021, the Mexican government said that US authorities were also investigating WhiteWater for "awarding contracts under suspicion of corruption, abuse of trust and traffic of influences." The open federal case in Texas pressures authorities in the US to investigate the possible corruption in the bilateral contracts signed between the CFE and WhiteWater. In response to a request for comment from EL PAÍS, the US Embassy in Mexico said that the government doesn't comment on open cases.
The US is Mexico's most important bilateral relationship and is currently in a state of turbulence and tension, largely due to the position of Mexican President Andrés Manuel López Obrador regarding energy policy and diplomacy, said Adrián Duhalt, a non-resident scholar at the Baker Institute for the United States and Mexico Center at Rice University. López Obrador has canceled permits and reversed the energy reform initiatives of his predecessor, generating uncertainty for millions of dollars in investment for North American companies.
"Mexico, despite the rhetoric about energy self-sufficiency, will continue to depend on natural gas imports from the US that will only increase in the final years of the López Obrador administration," Duhalt said. "A card that President López Obrador could play is to point to corruption. If it's determined that WhiteWater Midstream or the former CFE officials took part in influence trafficking or acts of corruption, he will no doubt use the case to feed his narrative against previous governments and the energy reform of 2013."
He added: "With state elections in 2022 and 2023, as well as the presidential elections in 2024, the WhiteWater Midstream affair and the proceedings against former CFE officials are ammunition for the narrative of the governing coalitions."
More information