Mexico's electricity commission turns to US court in battle versus WhiteWater Midstream
The CFE has hired a private investigation company to build a case against two former Mexican officials with ties to the Texas energy company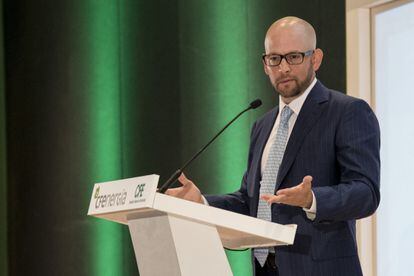 The Mexican Federal Electricity Commission (CFE) has opened a legal case in the United States in an effort to obtain information about the contractual dealings that made WhiteWater Midstream, a Texas energy company founded in 2016, into Mexico's biggest foreign supplier of natural gas during the previous administration. The CFE opened the case in the US District Court for the Western District of Texas on April 14. The case seeks to gather evidence against former CFE executives Guillermo Turrent and Javier Gutiérrez, both of whom are part of a criminal proceeding in Mexico, according to the nearly 1,100-page legal filing.
In July 2021, EL PAÍS revealed that executives from WhiteWater Midstream, a recently formed natural gas company, had ties to Turrent that dated back more than 20 years, to their time together as employees at Royal Dutch Shell. Under the administration of former Mexican president Enrique Peña Nieto, CFE International (CFEi), the privately operated foreign arm of the state company based in Houston, awarded WhiteWater hundreds of millions of dollars worth of contracts to supply Mexico with natural gas, which is used to generate electricity.
Following publication, the CFE hired a private investigation company in the US to explore possible corruption, influence trafficking and damages to the Mexican state. It was this US-based private investigation company that submitted evidence to the court in Texas in support of CFE, which alleges that the contracts awarded to WhiteWater and its founder, Matthew Calhoun, were done in violation of Mexican law. A criminal proceeding has been opened in Mexico by the Attorney General's Office and the Office of the Special Anti-Corruption Prosecutor, according to the court filing.
"The Mexican Criminal Proceeding involves claims that, in December 2016, Javier Gutiérrez Becerril, a former executive of CFE and former Chief Operating Officer of CFEi, and Guillermo Turrent Schnaas, a former executive of CFE and former Chief Executive Officer of CFEi, as public servants, violated the Mexican Constitution and Mexican criminal and procurement laws by improperly awarding a US company, WhiteWater Midstream LLC and its subsidiaries and affiliates, massive natural gas contracts to build, transport capacity, and market gas on a Texas pipeline whose construction was sponsored by CFE," says the text of the case submitted to the US District Court for the Western District of Texas, which was reviewed by EL PAÍS.
"These contracts, with an estimated revenue to WhiteWater Midstream of hundreds of millions of dollars over the lifetime of the deal, were awarded by Gutiérrez and Turrent for the benefit of WhiteWater Midstream and to the detriment of Mexico and its people," it says. The filing of the case in the US was first reported by OffshoreAlert, a legal news website based in Miami.
One of the existing contracts between the two companies, in which the CFE committed to pay WhiteWater Midstream more than $3 million per day for 15 years for natural gas supply, is at the center of a renegotiation dispute led by Mexican authorities that seek to eliminate WhiteWater from the deal for being an "abusive intermediary." The documents submitted to the Texas court reveal that at least four other contracts were awarded to Calhoun, the founder of WhiteWater and of a second company called Antaeus Group, which the CFE is also investigating.
CFE presented its case to the Texas court in hopes the US judiciary will order Antaeus Group to turn in information and documentation that include communications and interactions the company had with Turrent and Gutiérrez. Additionally, evidence presented in the case alleges that Gutiérrez was employed at Antaeus Group months before joining the CFE, which could represent a conflict of interest.
According to a 2018 document issued by the US Federal Energy Regulatory Commission (FERC), the CFE awarded Antaeus Group rights to construct a natural gas pipeline in the state of Texas. Antaeus Group didn't construct the pipeline and leased its rights to a third-party company to build and operate the project. In exchange, Antaeus Group and a partner were to receive a fixed monthly lease payment of $2.1 million as part of the agreement.
"Calhoun, through Gutiérrez and Turrent, sought to orchestrate, and in some cases succeeded in orchestrating, transactions with CFE in which Calhoun, through Antaeus Group, stood to benefit," the court filing reads.
"It is against this backdrop of a close, long-standing relationship among Calhoun, Gutiérrez, and Turrent, including Gutiérrez's role as a principal of Antaeus Group, that Antaeus Group sought numerous business opportunities with CFE and CFEi, eventually culminating in Turrent's and Gutiérrez's awarding the Waha Connector Agreements to Calhoun's newly formed company, WhiteWater Midstream, in contravention of Mexican procurement laws."
The filing of the case by the CFE in a US court confirms criminal proceedings being carried out in Mexico against Turrent and Gutiérrez and pressures US authorities to investigate the deals in question, given corruption is alleged in their formation. On July 16, the CFE issued a statement that claimed contracts signed between the state company and WhiteWater were under investigation in both the US and Mexico.
More information