Young Ukrainians on the war: 'The near future? Getting the enemy out of here'
This generation of youths, who have suffered the consequences of the Chernobyl nuclear disaster, the Maidan Uprising and Russia's annexation of Crimea, now have their lives on hold
A horrible sound is coming from both inside and outside the basement. Outside, an air raid siren is warning that Russian missiles are flying overhead, and inside, a rock band is playing terrible covers of heavy metal groups. More Music, an iconic underground music club in the Ukrainian city of Odessa, is holding its first concert since Russia invaded the country on February 24. And fans are showing up with the natural ease of people who have spent nine weeks living with missiles, curfews, military checkpoints and sirens. On this Friday night, these brave Ukrainians, looking for a semblance of the cultural life they once had, shake their head to the music and make horn signs with their hands.
The strange party ends before 10pm, after which time anyone on the streets may be considered a pro-Russian infiltrator. Just a few hours later, four missiles are heard in the city. The new normal in cities like Kyiv, Odessa and Lviv is something akin to a party where a missile shell can hit the bar at any time while Motörhead is playing.
Before February 24, Andrei used to spend his weekends going to pubs, clubs or to Arcadia Beach to have fun with his friends and watch the spectacular sunset on the Black Sea. "But now the sand is full of mines," says the 30-year-old, who prefers not to give out his last name. He used to spend his Fridays drinking vodka and beer, but now due to the ban on alcohol, he drinks herbal tea. Up until a few weeks ago, Andrei was selling apartments in a real estate agency and had never seen a weapon, but now he speaks naturally about Javelin, Onyx and cruise missiles, he knows where the nearest shelter is and he is able to differentiate a Ukrainian tank from a Russian one at a glance. "The war has changed everything. I lost my job and now the most you can do in the city is drink coffee. And I feel lucky because 100 kilometers away people are dying and they can't even go out on the street," he says, referring to the Mykolaiv front, where Russian and Ukrainian troops are fighting for every street corner.
Dimitri, like Andrei, also does not want to give his last name. Fear of Russia, which has been instilled in Ukraine since the totalitarianism of the Cold War, is stuck in the collective subconscious. Of the 10 people interviewed for this story, seven did not want to give their last name for fear of Russian reprisals, they explained.
None of those who spoke to EL PAÍS were born before 1986, when the Chernobyl nuclear power plant disaster turned Ukraine into global news. The event defined a generation of Ukrainians who were still under Soviet control, but also marked a before and after for the country. The biggest nuclear accident in history left thousands dead and displaced 300,000 people, including a generation of children who were sent across Europe to get away from the radiation. The contamination was detected even in vegetables and milk from countries such as the Netherlands, the United Kingdom and Germany.
The accident, moreover, was a political earthquake for an entire generation and helped trigger the fall of the Soviet Union, five years later. "Chernobyl marked a rift with political power and Ukrainians' distrust of Soviet authorities at the time," says Olga Tarnovska, a 45-year-old doctor of philosophy, who was evacuated due to the disaster.
A similar rift was seen during Euromaidan, or Maidan Uprising, at the end of 2013, when a wave of street demonstrations, filled with many young Ukrainians, pushed out the pro-Russian president Viktor Yanukovych. Those protests – which called for Ukraine to become more aligned with Europe and move away from Russia – led to the deaths of around 100 people and marked the beginning of a struggle that is now at its apex, with five million people exiled and thousands dead.
Suddenly, a generation that speaks three languages – Ukrainian, Russian and English – , understands bitcoin and uses cellphones to pay for items at stores, finds themselves talking about concepts from another time: bunkers, trenches, chemical attacks and "the return of the Communists." In record-time, young people in Ukraine have accepted that they could be called up to serve at any moment, that the economy is broken and will shrink by 45%, according to the World Bank, and that they are now joined by a common hatred of Russia and bittersweet feelings towards Europe.
"How do I see the future? I don't know, now we just want to win this war. This is a skilled generation that continues to study and knows that it has to stand up to defend this land and its values. We want to be free and decide our future," explains Andrei. "We have realized that nothing is free, but the entire country is united in this fight. This didn't start now. That is why European countries must support us more. We have been left alone to defend the country from a terrorist like [Vladimir] Putin," he says in a cafe with three other friends, most of them newly unemployed after the companies they worked for closed due to lack of clients. "This is a fight between a young world, Ukraine, and an old world, Russia. The entire team that surrounds President Volodymyr Zelenskiy is made up of young people compared to the team that surrounds Putin, who are all old and embittered men who treat us like puppets," he adds.
A few streets further on, very close to the Odessa Opera and Ballet Theater, two brothers aged 15 and 21 are walking aimlessly through an area of cafes and clothing stores that are now completely closed. "Our life has been defined [by the conflict with Russia] since 2014, when we had to leave Donbas, where I lived with my family, and came to live here," explains Dimitri, the oldest of the brothers. Russia illegally annexed Crimea that year and since then, has militarily and economically supported pro-independence areas in the eastern region. "Now the conflict has spread throughout the country, but there," he says, pointing to the east, "we have been suffering for many years," he explains. "The near future? Getting the enemy out of here," he replies without hesitation.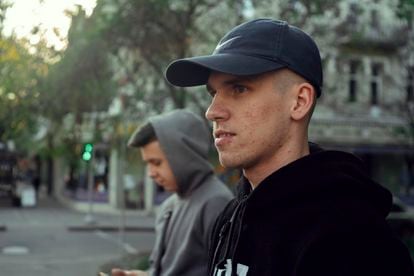 The owner of More Music club, Oleksandr Kapuka, 38, believes that the country will be back on its feet soon, saying that international aid will flood in and the Ukrainian government will make an effort to rebuild infrastructure and provide support to boost productive activity. "This is a young country that wants to get ahead. We can do it quickly and do it well if the war ends soon, but if it lasts a long time…," he says, rubbing his temples, "we will all have to close." Kapuka isn't able to make any predictions about how the war will mark new generations. "For the moment, we have to win the war. I don't have the mental energy to know if this is going to mark future generations, "he answers. "All I know is that the current generation has to go home. It's already 9.30 pm and I have just enough time to empty the premises and get home before the curfew begins," he jokes. "The heavy metal fans of today go to bed at 10pm."