Spain rejects EU migration plan for not including relocation quotas
Madrid feels the project designed by the Commission could place an even heavier load on frontline countries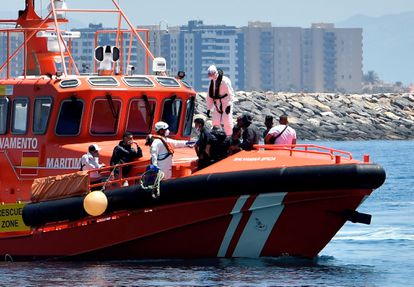 Spain is rejecting a plan that aims to curb irregular immigration to the European Union yet lacks quotas to relocate migrants across member states.
Besides a distribution of asylum seekers, Madrid also wants mandatory quotas for migrants who are rescued at sea. Spanish sources said that without such a system, the scheme designed by the EU Commission will place an even heavier load on frontline countries with external borders.
Europe's new immigration pact must reconcile the needs of frontline nations with the fact that a majority of irregular migrants end up in countries such as France, Belgium, Germany and Sweden.
Spain is in a very delicate negotiating position, because its immigration issues do not fully coincide with those of other Mediterranean countries. In Spain's case, most irregular immigration by sea comes from Morocco.
At the same time, like other frontline countries, Spain is under pressure from member states who wish to stop the flow of irregular migrants who make the journey from their point of entry to other EU countries.
Southern countries reject the idea that they should continue to bear all the responsibility – and the cost – of processing requests and accepting all the asylum seekers who enter Europe through their own territory
The Spanish government has been trying to navigate middle waters, seeking common ground between both positions. Together with France and Germany, it has contributed input in favor of a fast-track system to check asylum requests at the border, and to prevent these "secondary" journeys within EU territory.
The proposal, to which EL PAÍS has had access, is contained in a document signed by Spain, Germany, France and Italy, and acknowledges the "excessive burden" that is borne by some member states.
But Spain is simultaneously working to consolidate a southern front with the countries that are the first point of entry for tens of thousands of irregular sea arrivals.
The most affected countries – Spain, Italy, Greece and Malta – say that these migrants must be distributed across the territory through a mandatory quota mechanism. This would include people rescued at sea, which is an important point for Spain as it plays a leading role in providing assistance to migrants in distress.
Southern countries reject the idea that they should continue to bear all the responsibility – and the cost – of processing requests and accepting all the asylum seekers who enter Europe through their own territory.
No-man's land
But this double strategy has so far failed to yield significant results for Spain, and the country now risks finding itself in no-man's land as the preparations for an EU migration pact enter their final stage.
Brussels is taking note of the demands from countries in the north and east of Europe, as well as some from the south such as Italy. But for now, it does not look like Spain's position has made any headway.
Spanish sources acknowledged the "difficulty" of the negotiation and noted that the first proposals date back to 2016. The latest disagreement between member states played out late last year, when France and Germany pushed for the creation of a temporary distribution system for sea arrivals that only included Italy and Malta. The plan left out Greece and Spain, who were then taking in more migrants than their Mediterranean partners.
At that point, Spain refused to accept a solution that did not take its own borders into account, and an agreement was closed in September with only six countries signing it besides France and Germany. Since then, only around 1,800 people who entered Malta and Italy have been relocated to other EU countries. The mechanism is slow and full of red tape, and despite a drop in arrivals, there are still more than 800 migrants awaiting relocation, according to EU Commission figures obtained by EL PAÍS.
Consensus building
Diplomatic sources said they believe the EU Commission is trying to incorporate elements that will make everyone happy in an effort to overcome the enormous differences that have held back progress since 2015, when an immigration crisis broke out and Brussels presented a European Agenda on Migration.
EU Commission president Ursula Von der Leyen made achieving a far-reaching immigration pact one of her main goals when she accepted the post. The health and economic crisis triggered by the Covid-19 pandemic has delayed these plans, while a significant drop in irregular arrivals has reduced pressure ahead of one of the most complex and delicate negotiations on the EU's agenda.
Brussels is hoping to relaunch the talks in the coming weeks. Germany, which will take over the rotating EU presidency in the second half of the year, wants to reach a political agreement on the calendar and stages for closing the deal. But diplomatic sources warn that a deal could take more than a year of negotiations.
Around 75% of asylum requests are currently concentrated in five states, with Spain, Germany and France heading the list. But whereas most of the asylum seekers in neighboring countries are Syrians, Iraqis and Afghans, in Spain over 80% of them are Latin Americans. Berlin notes that only 3% of irregular migrants who travel away from Europe's periphery are sent back to their point of entry.
English version by Susana Urra.