World takes stock of Bolsonaro win in Brazil's presidential election
With 99.49% of votes now counted, former army official Jair Bolsonaro has been elected the new president of Brazil with 55.21% of the ballots
As the world on Monday took stock of Brazilian voters' decision to elect a far-right populist as their new president, congratulatory messages continued to arrive from political leaders.
With 99.49% of votes counted, former army official Jair Bolsonaro has been elected the new president of Brazil with 55.21% of the ballots, while his opponent Fernando Haddad, of the Workers Party (PT), took 44.79%. The Sunday election was the most polarized, tense and violent seen in decades.
Writing on Twitter, US President Donald Trump said in a message sent out around 1pm CET that he had "had a very good conversation" with Bolsonaro, adding that the pair had "agreed that Brazil and the United States will work closely together on Trade, Military and everything else!"
In Latin America, Bolsonaro received messages from Mexico, Colombia, Peru, Chile and Argentina. "Congratulations on the victory in Brazil," said Argentina's conservative president Mauricio Macri. "I hope we will soon work together for the relationship between both our countries and for the well being of Argentines and Brazilians."
"We wish him a lot of success in his management and hope that his government will contribute to promote peace and freedom in all the countries in the region," tweeted Lillian Tintori, wife of the Venezuelan dissident Leopoldo López. The government of Venezuela extended "sincere congratulations."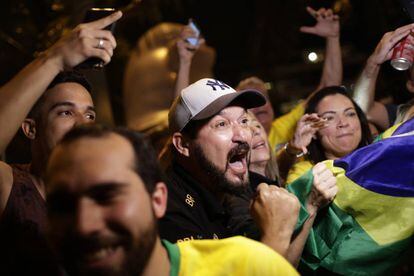 Other leading figures were more non-committal in their messages. Bolivian president Evo Morales saluted Brazilians themselves for "their democratic participation" and "extended Bolivia's acknowledgment" to the new president-elect.
In Europe, France's far-right politician Marine Le Pen wished Bolsonaro good luck, and said that now "he will have to restore the economic, security and democratic situations in Brazil, which have been highly compromised." The National Rally leader said that Brazilians have just "sanctioned generalized corruption and the terrifying crime rate that prospered under far-left governments."
Another far-right European politician, Deputy PM Matteo Salvini of Italy, expressed similar thoughts:"In Brazil too, citizens have sent the left home!"
Brazil's current president, Michel Temer, has congratulated Bolsonaro on his "historic victory" and guaranteed that there will be a peaceful transfer of power. The president-elect will be sworn in on January 1.
Overseas votes
Brazilians living outside their country were particularly supportive of Bolsonaro: the vote count shows he received 71% of the overseas ballots. In the United States, the far-right candidate obtained a majority in cities such as Miami, Atlanta, Boston and Los Angeles. In Italy he performed well in Rome and Milan, and in Portugal he secured most of the overseas vote in Lisbon, Oporto and Faro, the daily O Globo reported.
His opponent Haddad did better in the Palestinian city of Ramallah, and in Havana, Berlin, Frankfurt, Paris and Moscow.
Haddad also did better in Brazil's cities, taking 2,810 compared with Bolsonaro's 2,760. A map of the vote count shows that the PT candidate was more successful in Brazil's north, while Bolsonaro did better in the southeast, the daily O Globo reported.
The European stock markets opened with gains on Monday, following news of Bolsonaro's victory. Spain's blue-chip Ibex 35 advanced 0.5% to reach 8,774.2 points.
English version by Susana Urra.