Domestic violence victim files complaint against judge who called her "a bitch"
María Sanjuán, a Spanish model, has had access to a post-hearing recording in which she is mocked by the magistrate in charge of her case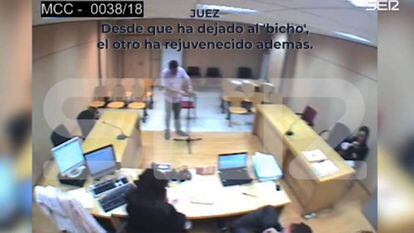 A victim of domestic violence has filed a complaint against the Madrid judge in charge of her case, after gaining access to a video recording made inside the courtroom in which the judge mocks and insults the woman after a hearing.
The judge is heard calling her a "bicho" (nasty piece of work) and "hija de puta" (bitch)
María Sanjuán, a model who has reported her ex-husband for psychological abuse and whom the police have assessed as a high-risk case, has now filed a complaint with the General Council of the Judiciary (CGPJ), Spain's legal watchdog, against Judge Francisco Javier Martínez Derqui, Spain's Cadena SER radio network reported.
Martínez Derqui is overseeing civil and criminal proceedings in connection with Sanjuán's divorce from Josué Reyzábal, an entrepreneur, whom Sanjuán also accuses of issuing threats against her.
The recording of the conversation (Spanish audio and subtitles).
Sanjuán has viewed the official video of the divorce hearing, which was accidentally left recording after the proceedings concluded. In it, the judge is heard calling her a "bicho" (nasty piece of work) and "hija de puta" (bitch).
Martínez Derqui, who is seen in conversation with the prosecutor and the court clerk, goes on to state: "Just watch her go to pieces when she learns that she has to turn the kids over to the father; that same night she'll be on [TV gossip show] Sálvame tearing me apart."
Sanjuán has accused Martínez Derqui of lack of impartiality, ill will, and a possible case of prevaricación, an offense involving a judge who knowingly issues an unfair decision. The divorce hearing had addressed the custody of the couple's 10-month-old and 21-month-old children. The video shows the three individuals – two women and a man – laughing and wondering why Sanjuán did not personally show up for the hearing. They question the "real" reason why she was admitted into hospital the night before with a severe panic attack after learning that her protection order had been revoked. "She set that up," says one. "Yes, what a bitch," adds the judge.
Following the revelations, the prosecutor and the court clerk have dropped out of the case. The Madrid regional High Court will now decide whether the judge remains in charge. In statements to Cadena SER, Martínez Derqui said that the talk was "a private conversation that was unduly recorded."
"We are calling on the judges to take action," said Marisa Soleto, the president of the Fundación Mujeres (Women's Foundation). "This is more than just a private conversation and reveals the kind of opinions on which judicial judgments are made. Beyond what was recorded, you can see in the case the fact that [the judge] does not consider canceling the [children's] visits to their father despite the fact that the victim is at risk."
English version by Susana Urra.