Migrants stranded in Basque Country as France steps up border controls
Hundreds of people from Sub-Saharan Africa have been sent back into Spain by French police, regardless of whether they have the right to apply for asylum
Denis is not giving up. After a punishing three-year journey from Sierra Leone, crossing the Mediterranean Sea and making it over the border fence into Ceuta, getting a train from the French town Hendaye to Paris should be easy. But he's failed two times already. In both instances, he was caught by French police and turned back to Irún, the Basque municipality on the border with Hendaye. This time he is watching the train station closely with two friends who traveled with him from Cameroon.
Irún has become a trap for hundreds of young people like Denis. There is no barbed-wire fence here, but rather the obstacles facing them are patrols of French gendarmerie, who pursue migrants who get past border security even once they are inside France.
"They have really strengthened the border controls," says Jan Aranguren from SOS Racism in Irún, an association that supports migrants.
At 10.25am, a French patrol arrives at the station in Hendaye. A train has just come in from Spain. A migrant is intercepted as he tries to reach the platform. Shortly after, a patrol car returns him to the Spanish side of the Santiago Bridge in Irún. By 10.45am, the French police have resolved the situation. But back in Irún a bigger problem is brewing.
SOS Racism says that France is failing to meet its agreements with Spain and has attacked Spanish authorities for "looking the other way." While there are no official figures, aid associations estimate that around a thousand people have been trapped in the Basque Country just this summer. Since June 28, the Basque regional government, together with the Red Cross, has helped 3,204 migrants in transit.
This year has been terrible and we haven't seen the worst of it
Spanish police officer
"A few weeks ago, two cyclists found a man lying on a road in Irún," says Ana Oñatibia, a member of a community-run support network. The man had heart problems and was on the brink of dying when he was returned from the border, she said.
Oñatibia is part of a volunteer network of around a hundred people who dedicate their free time to checking the local area for migrants – most of them from Mali, Cameroon, Equatorial Guinea and Guinea. They are often found wandering around the streets and squares, in many cases with children and suffering from illnesses, and always with a lot of problems. From there the members of the network improvise to attend to each migrant's needs.
Since the start of summer, the volunteer network has spread out to the Basque cities of Bilbao and San Sebastián, where public resources are failing to meet the growing needs to cope with the numbers of migrants. The Basque Country can take a total of 213 people in to emergency temporary shelters, with space for 88 in Bilbao, 35 in Vitoria, 30 in San Sebastián and 70 in Irún.
Migrants are moved from Irún to whichever shelter can take them, regardless of whether they are unaccompanied minors or women with children. Neighborhood associations in Bilbao and San Sebastián have stepped up to provide accommodation and care for the migrants when their time runs out at the official shelters. But with France tightening security at the border, the work is unlikely to ease up. "It's not just the train, I was coming by bus from the south of Spain when we were stopped," says Émile, who began her journey in Congo.
The community support network has created one group to help migrants wash their clothes and provide other cleaning products, one to find food, and another to secure medicines and help address their health problems. "We've just created another group to teach them Spanish," says Oñatibia. "I have friends who offer their vegetable orchards to provide fresh food to the migrants."
On Saturday, some of the volunteers gathered at an occupied house in Irún that is used in emergency cases to shelter migrants. The official shelter in Irún can hold up to 70 people but migrants are only allowed to stay for a maximum of five days. They are then sent out to the street, whether or not they have somewhere to go, even though there are almost always spaces free in the shelter.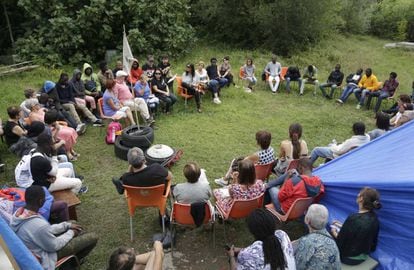 Around 50 migrants attended the meeting, while planning their next attempt to cross into France. Few want to stay in Basque Country. "What these people have lived through is very hard. That's why, if they want to stay, they have to look for opportunities," says Íñigo Olaizola, one of the volunteers in the network.
Olaizola, who is the head of the Donosti Cup, the fourth-biggest youth soccer competition in the world, recounts how he met Romeo, a 22-year-old soccer player from the Marfil Coast. "He played two training games with the Real Unión team from Irún, in shoes that were two sizes too small. He is fighter. Now he is training with Landetxa soccer team. He has the raw material and a lot of attitude," says Olaizola.
The gendarmerie is monitoring all means of entry, from highway transport to the railway and at every point SOS Racism spokesperson Jan Aranguren
"There is a lot of prejudice about the profile of the people who pass through here," says a spokesperson for the region's Refugees Welcome association, regarding migrant stereotypes. "We have helped two journalists who were persecuted in their counties and among the people who don't have anything, there are other people who have studied and are professionals."
For the migrants who want to continue into France, there is no sign things will become any easier, says Aranguren from SOS Racism. "The gendarmerie is monitoring all means of entry, from highway transport to the railway and at every point – the two bridges in Irun and Behobia and the highway," he explains. "They are also policing the bus lines between Bilbao, San Sebastián and Baiona." Anyone who does not have a passport or a visa is thrown into a van and returned to Spain "without any guarantees," adds Aranguren.
According to a Spanish police officer, who preferred to remain anonymous, "it doesn't matter if they are minors or adults, if they meet the conditions to apply for asylum or not."
The border officer warned that those returned to the border by French officials represents just a small fraction of the total number of migrants who are brought back to Spain. "This year has been terrible and we haven't seen the worst of it," they add.
English version by Melissa Kitson.