Spanish jets left out of Baltics air-policing after Estonia missile incident
Military sources say human error is most likely cause of launch of an air-to-air missile near the Russian border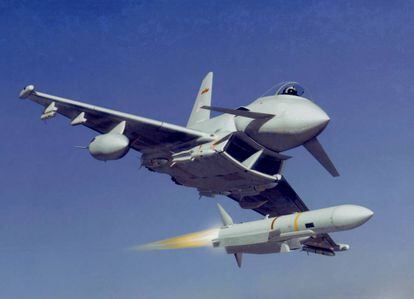 Spanish Eurofighter jets deployed in the Baltics have halted their air-policing drills after one of them accidentally fired a missile on Tuesday over southeast Estonia, Allied sources have confirmed. The weapon was fired at 3.44pm in an area located around 100 kilometers from the Russian border.
The Spanish aircraft have been suspended from the missions until the circumstances of the incident are cleared up, said the same sources. Estonian authorities are still looking for the missing missile, which they suspect may have hit the ground despite having a built-in self-destruct mode meant to go off in the air. No explosion was detected at the time of the incident.
Allied sources said that Estonia is being "low-key" about its complaint
NATO has assigned Portuguese F-16 squadrons and French Mirage 2000 jets the task of intercepting any unauthorized flights, while the Spanish jets have been temporarily left out of the air policing scrambles, which are ordered to respond to aircraft that approach Allied airspace without following international flight regulations.
While an investigation into the cause of the accident is still underway, military sources said that human error is the most likely cause as no software errors have been detected. If so, it would be an extremely unusual mistake to make, particularly since the fighter jet was being flown by a highly experienced pilot. It is not enough to press a button in order to launch a missile – instead, a procedure involving several steps must be followed.
The pilot had not assigned a target to the advanced medium-range air-to-air missile (AMRAAM), which uses radar technology and carries a warhead. Otherwise it would have probably hit another one of the three fighter jets that were participating in the exercise at the time.
Estonian Prime Minister Jüri Ratas on Wednesday expressed concern about the matter in a telephone conversation with NATO Secretary General Jens Stoltenberg.
"I told the secretary general of NATO that it is a serious incident and we are understandably concerned about this in Estonia. Thank God that as far as we know, no one was hurt as a result of the incident," said Ratas, according to a government press release. Stoltenberg for his part lamented the incident and offered NATO's complete support for the investigation, said the Alliance's spokesperson.
Spanish Defense Minister Margarita Robles spoke on Wednesday with her Estonian counterpart, Jüri Luik, whom she met at a recent NATO summit in Brussels.
Allied sources said that Estonia is being "low-key" about its complaint, because "everyone is aware that such an incident, while improbable, cannot be ruled out," and that NATO members ensure the Baltic nations' airspace defense free of charge.
Spain has deployed aircraft in the Baltics around six times since 2004. Its current deployment includes 135 personnel and six Eurofighter EF-2000 jets from the military base of Morón de la Frontera (Seville), which are now stationed at the base of Siauliai in northern Lithuania. The mission began on May 1 and will end on August 31.
English version by Susana Urra.