Spanish secret service, ministers react to alleged recordings of "close friend" of King Juan Carlos
Tapes made by ex-policeman purportedly of Corinna zu Sayn-Wittgenstein appear to suggest the former monarch used the businesswoman as a front to conceal his wealth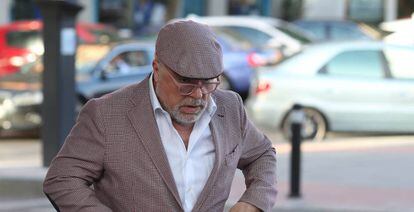 The head of Spain's intelligence services will speak at a closed-door hearing in Congress to explain his version of events regarding secret recordings in which a Monaco-based businesswoman allegedly claims that former Spanish King Juan Carlos used her as a front to conceal his wealth.
National Intelligence Center (CNI) chief General Félix Sanz Roldán will be asked about statements allegedly made by Corinna zu Sayn-Wittgenstein, who has been described as the former king's "close friend," and who said that the Spanish intelligence services were putting pressure on her.
No democratic party has any excuse not to support this initiative
Pablo Echenique, Podemos
The recordings, which were leaked by Spanish online dailies OKDiario and El Español, were made by a retired Spanish police chief named José Manuel Villarejo, who is himself under investigation on allegations of criminal association, bribery of public officials and money laundering.
Villarejo, who has been in pre-trial custody since November, had been operating a "crisis-management" firm that used a network of paid informants in key positions – such as banks or the Spanish Tax Agency – to obtain sensitive information about politicians and others as ammunition to help wealthy clients in distress.
Investigators in Operation Tandem are now considering whether Villarejo made these recordings in 2015 as a job for someone – potentially even zu Sayn-Wittgenstein herself – or as a personal project to give himself leverage against the state's investigation into his own shady business practices.
"Villarejo wants to turn Operation Tandem into the Corinna case," said sources familiar with the probe, who described it as a maneuver "to intimidate the state and the state's institutions."
Spanish Defense Minister Margarita Robles, who is in charge of the CNI, has spoken out against this possibility. "The state cannot submit to anybody's blackmail, and any violation of the law comes with responsibilities that will be determined by judicial proceedings," said Robles in statements to EL PAÍS.
The government's attitude has changed noticeably in just 48 hours. On Friday, government spokeswoman Isabel Celaá had said that no explanations were required because the recordings "are old, and fortunately do not affect our head of state, King Felipe VI."
The leftist coalition Unidos Podemos wants an investigative committee to look into the matter further. "No democratic party has any excuse not to support this initiative," said Pablo Echenique, Podemos's organization secretary.
This will be the second time that General Sanz Roldán has gone to Congress to talk about "the actions of the secret services with regard to Ms Corinna Larsen," according to government sources, who used the 53-year-old businesswoman's maiden name (she adopted her current title when she married Johann Casimir zu Sayn-Wittgenstein-Sayn, whom she divorced in 2005).
The first time was in 2013, when documents emerged showing her name in an advisory role during official trips made by Juan Carlos, who was still the king of Spain at the time. Back then, Sanz Roldán denied any action by the CNI in connection with her.
The new recordings were seized months ago from one of Villarejo's collaborators, and they are currently being analyzed by the police before being delivered to Judge Diego de Egea at Spain's High Court, the Audiencia Nacional.
The state cannot submit to anybody's blackmail
Spanish Defense Minister Margarita Robles
In the recorded conversation, zu Sayn-Wittgenstein allegedly says that Juan Carlos used her as a front figure to conceal his wealth, and complains that the head of the CNI is threatening her. She also mentions Swiss bank accounts held by Juan Carlos, and a Swiss lawyer named Dante Canónica who allegedly built a money-laundering structure.
On Thursday, zu Sayn-Wittgenstein told the media that she considered herself "the victim of a smear campaign for political motives," but she neither confirmed nor denied that it was her voice on the recordings.
The relationship between Juan Carlos and zu Sayn-Wittgenstein emerged when the former king had an accident on a hunting expedition in Botswana in 2012. The fallout from that trip contributed to the monarch's deteriorating public image; in June 2014 he abdicated the throne and his son became King Felipe VI of Spain.
Crisis management
For years, clients would trek to the ninth floor of the Picasso Tower in Madrid and knock on the door of Villarejo's "crisis management" firm. Police sources say that what Villarejo really specialized in was finding dirt on business figures, judges, journalists, politicians from both the Popular Party (PP) and the Socialist Party (PSOE), and even CNI officers.
Villarejo would charge very high fees for these "projects," as he referred to them. Between 2013 and 2017 he asked eight clients for €30 million, according to legal sources. This newspaper has found that between 1992 and 2010 Villarejo earned €20.4 million. He always claimed that the Interior Ministry was aware of his business and deemed it compatible with his police job.
His clients included executives from companies listed in the blue-chip IBEX 35 index, a law firm named Herrero & Asociados, and an alleged money launderer with ties to the vice-president of Equatorial Guinea, Teodoro Nguema Obiang Mangue.
His secret files affect dozens of high-profile individuals from the last 25 years, according to legal sources, who added: "The High Court and the counter-corruption attorney's office will resist the pressure."
Juan Carlos can only be tried by the Supreme Court, given that he enjoys partial immunity thanks to his status as an aforado –  a legal term in Spanish referring to those, such as high-ranking politicians, who are protected from prosecution in the lower courts. There could be a preliminary investigation if counter-corruption attorneys see signs of criminal behavior and the investigating judge agrees. But sources familiar with Operation Tandem say they will not fall into Villarejo's trap of using Corinna zu Sayn-Wittgenstein as a ruse to divert attention away from his own case.
English version by Susana Urra.