RUSSIA WORLD CUP | IRAN 0 - SPAIN 1
Analysis
Educational exposure of ideas, assumptions or hypotheses, based on proven facts" (which need not be strictly current affairs) Value in judgments are excluded, and the text comes close to an opinion article, without judging or making forecasts , just formulating hypotheses, giving motivated explanations and bringing together a variety of data
Spain running scared at Russia 2018
La Roja's strategy required finesse and quick passing against Iran last night, but it was imprecise and slow, unable to find a way to attack and lacking rhythm and depth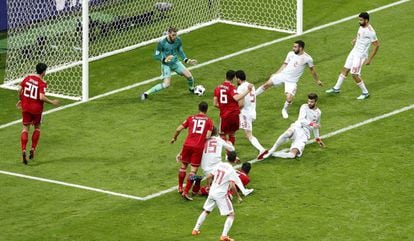 Spain is only playing from time to time so far during this World Cup. The team has its good moments, some that are just OK, and others that are bad or very bad, whether its rival on the pitch is Portugal or Iran. The team has lost its stability, its spark, and its emotional control, and has been penalized by the poor form of some of its fundamental players, and due to the clear nerves being suffered by the usually excellent goalkeeper, De Gea. Even taking into account the last-minute loss of their coach, Julen Lopetegui, who has already joined Real Madrid for the upcoming season, there's no clear reason behind such nerves in players who knew exactly what they had to do when they arrived in Russia.
'La Roja' is faltering. Perhaps the team is running scared, fearful of what has happened in the past and what could happen, as if they had forgotten that 1-0 that sealed the World Cup for them in South Africa in 2010, something that would explain their ability to attack but complete lack of defending, something that was clear to see last night in their second group match, against Iran. The latter team will always be able to say that they did score a goal, only to see it disallowed thanks to the Video Assistant Referee (VAR) system.
With Iran constantly closing Spain down, their goal came thanks to a fluke that bounced off Diego Costa's leg
The tension last night was palpable on the Spain bench, which is headed by former Spanish Royal Football Federation (RFEF) sporting director Fernando Hierro, who stepped into the role just days before the team's first game, against Portugal (3-3). The team's strategy against Iran required finesse and quick passing, but it was imprecise and slow, unable to find a way to attack and lacking rhythm and depth.
With Iran constantly closing Spain down, their goal came thanks to a fluke that bounced off Diego Costa's leg. The relief, however, soon turned into a surprisingly tortuous experience, because the Spain team started to wobble like jelly every time the ball was crossed, with the 10 other players all vigilant of De Gea, as if they wanted the goalkeeper to make the save of the night in order to recover the team's spirit and see the players really take off in Russia.
Spain needs to recover its confidence after having lost the ball and dominance in a game whose result was down to just one goal – as is the case in so many World Cup matches. A single goal can condemn a team, or make it a champion, an enormous difference that Spain needs to be aware of if it is to regain their confidence after such a dreadful match against Iran.