No early election: Spain's new PM wants to serve out term to 2020
In his first interview after no-confidence vote, Pedro Sánchez discusses immigration and Catalonia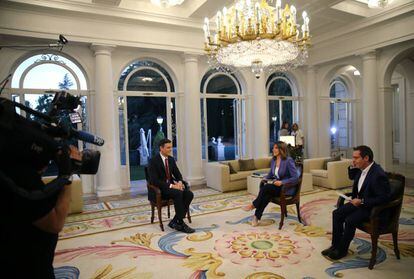 Pedro Sánchez, who became prime minister of Spain after successfully leading a no-confidence vote against Mariano Rajoy, on Monday unveiled that he plans to serve out the rest of the term until June 2020.
In his first interview since his inauguration on June 2, the leader of the Spanish Socialist Party (PSOE) said that the decision not to call early elections is based on the need to "normalize" the country's political life.
Borders can be protected without hurting human beings
Pedro Sánchez
"I plan to call elections in 2020, when the term of office ends, so yes, I will serve out the term," said Sánchez in an interview on state broadcaster TVE.
At the no-confidence debate in Congress, Sánchez had suggested that he might call a snap election because the motion was essentially aimed at unseating Mariano Rajoy, whose Popular Party (PP) had come under renewed fire after a damning ruling in a sweeping graft scandal known as the Gürtel case.
The PP, now in the opposition, and the reform party Ciudadanos, have been repeatedly asking Sánchez when he is going to call new elections. But his newly appointed ministers have said that they need time to enact their own policies.
Catalonia
The extra time that Sánchez is seeking in order to "normalize" public life has a lot to do with Catalonia, where a breakaway attempt last year plunged Spain into its biggest political crisis in decades. On Monday, Sánchez revealed plans for a meeting with Catalan premier Quim Torra in early July.
Controversial minister
"I probably would not have appointed him," said Pedro Sánchez when asked if he would have opted for Màxim Huerta as culture minister, should he have known about the latter's problems with the Spanish tax man.
Huerta last week became the shortest-lived minister in Spain's democratic history, stepping down just six days after taking office when it emerged that he was recently ordered by a court to pay €365,000 in unpaid taxes and fines.
He had used a company to claim deductions on his work as a TV journalist and writer, and these deductions included the purchase and upkeep of a vacation home on the Mediterranean coast, an expense that had nothing to do with his work.
The move seeks to restore frayed relations between Madrid and Barcelona. A unilateral independence declaration in late October triggered a suspension of autonomous powers in Catalonia, which came under direct rule by the central government until a new Catalan government was elected and inducted into office.
On Monday, Sánchez said he thought it would be reasonable to transfer Catalan politicians currently in pre-trial detention on rebellion charges to penitentiaries in Catalonia, once the investigation phase of the case ends. This would affect people such as Oriol Junqueras, leader of the separatist Catalan Republican Left (ERC) party, who is in custody in Madrid awaiting trial over his role in the breakaway attempt.
"It is reasonable to transfer separatist prisoners to Catalan prisons when the investigation period is considered to be completed," said Sánchez.
The PM insisted that he is not paying back the separatist parties who backed his no-confidence motion in Congress, as his critics have claimed. The PSOE, which only has 84 seats in the 350-seat chamber, was forced to seek support from the leftist Podemos and from regional groups – including the two separatist parties that led the Catalan secession push and which hold several seats in Spanish Congress – for his no-confidence vote to prosper.
Immigration
Sánchez also addressed concerns about an open-door policy on immigration in the wake of Spain's decision to accept the 630 migrants aboard the Aquarius, a rescue ship that was turned away by Italy and Malta.
"We are not going to open up our borders," said Sánchez, describing the decision to welcome the Aquarius as a humanitarian act to prevent numerous deaths.
The Socialist leader added that the European Union needs to be coordinated on immigration: "We need to craft a common policy and cooperation with countries of origin as well as transit countries," he told his interviewer. Sánchez said he will take this demand to the meeting of the European Council later this month, and that he will discuss it with French President Emmanuel Macron this Saturday in Paris.
The Spanish PM said he is aware that hundreds of migrants are reaching the coast of Andalusia on rubber dinghies and other such rickety craft, while many others are attempting to cross into the Spanish exclave cities of Ceuta and Melilla, on the northern coast of Africa.
"Borders can be protected without hurting human beings," he said. "We have signed many human-rights agreements with international agencies, and we want to respect them."
Sánchez said that he has already met with Podemos leader Pablo Iglesias to discuss the possibility of a common agenda on social issues. As for the PP, he said that he is "respectfully" waiting to see who will replace Rajoy as party leader after the latter announced that he was stepping down.
English version by Susana Urra.