Eight Spanish beaches to visit this spring
From the picturesque Andalusian shores to a spectacular cove in Ceuta, Spain is filled with great swimming spots
1 Swim in Almería
Las Negras (Níjar, Almería)
This beach in the small town of Las Negras is protected by a natural barrier of underwater rocks known as Las Esperillas. There are no docks (it is in the Cabo de Gata-Níjar natural park), so getting on or off a boat means getting your feet wet. Some board en route to San Pedro beach; others – like the clients of diving company Buceo Las Negras (buceolasnegras.com) – head to waters brimming with maritime life, such as groupers, dolphins, haddock and even moonfish. For a bite to eat, try the restaurant La Sal (lasaldelasnegras.com).
2 Under the red sun
Regla (Chipiona, Cádiz)
The Costa de la Luz coastal walk connects Spain's tallest lighthouse (accessible every day of the week except Thursdays and Saturdays) to a beach that goes by the name of Santuario de Nuestra Señora de Regla. The seafront town Chipiona provides lots of entertainment options: be it dining outdoors in a terrace, a cool beer in El Picoco bar, enjoying clams in a chiringuito (a small beach hut bar) or the local muscatel wine. The size of the beach varies dramatically according to the tide, and at sunset, the sun transforms into an incandescent ball of red light, that slowly dips below the horizon.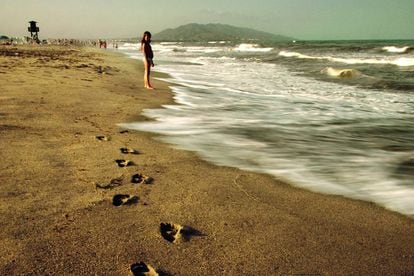 3 Cosmopolitan nudism
El Playazo (Vera, Almería)
Come springtime, central European and Scandinavian tourists flock to El Playazo beach, a 1.5 kilometer-stretch of gray sand known for its relaxed and respectful atmosphere. The best way to get there is to walk along Ciudad de Castellón Avenue. For tapas and mixed platters, go to La Alcazaba or Bar de Benito, located next to the naturist resort, Vera Playa Club (playasenator.com), which opens  again on April 27.
4 Delve into nature
El Ruso (Albuñol, Granada)
In this secluded paradise at the foot of a cliff there is enough room for everyone. To get here, take the N-340 and half a kilometer from the exit sign to La Rábita, you can park your car to the right of a chalet. From here there is difficult path (you'll have to scramble on your arms and legs, lugging your beach bag) down to the beach. If you want to stay the night, try the large country house La Ventera (laventera.es).
5 At the foot of a castle
Desnarigado (Ceuta)
As well as the La Ribera city beach, beachgoers in Ceuta can choose to visit Desnarigado cove, also known as Potabilizadora cove. You can't get there on a bus, and a taxi will charge you around €6. This is the beach where locals go to relax and snorkel. The cove sits at the foot of the Desnarigado castle (today, a military museum), which used to prevent ships from docking at the base of Mount Hacho.
6 Out of a swimsuit and into the snow
Punta del Río (Salobreña, Granada)
To reach the Punta del Rio beach, where the Guadalfeo River meets the sea, bypass the wetlands and to your left you will see the long stretch of sand. The snow-capped Sierra Nevada in the background contrasts nicely with the people bathing in the Alboran Sea below: two very different but complementary worlds converging in the Costa Tropical region. For aquatic activities, go to 18nudos Surf Club (18nudos.com).
7 Protected waters
La Caleta de Maro (Nerja, Málaga)
Scenes from the iconic television series Verano Azul (Blue Summer) were shot in La Caleta; known as Cala Chica in the show. The beach is lined with reed beds and shrubs and looks out on to calm ocean waters. To get to La Caleta, it's better to leave your car in the town of Maro and walk until you reach Maro cove. Here you'll see a path on your right-hand side that will take you to La Caleta.
8 Kilometers of beach
Doñana (Almonte, Huelva)
The 28-kilometer beach within Doñana national park is perfect for long strolls by the shore. Visitors can also take classes at the kite and paddle surfing school (dangerousextreme.com) or enjoy fresh fish at the chiringuito El Navegante.
English version by Laura Rodríguez.