The many lives of a Latin American refugee
Luis Hernando Redondo describes life on the run from Colombia to Venezuela to Spain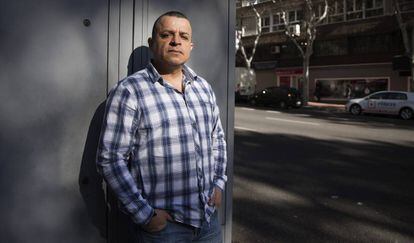 Cali, Colombia, 1999. A man is shot three times and dies. His murder at the hands of a guerilla goes unpunished and he becomes just another victim of the armed conflict in Colombia. Twenty years later in Madrid, his son, Luis Hernando Redondo, explains how the killing was to define his life, and not just because of the pain of losing a parent and the feeling of impotence in the absence of justice. "Everything changed after that. Colombia, Venezuela, Spain, Venezuela again…" he says choking back a laugh. Now he can breath easy but he he had to live various lives before this was the case.
Both Redondo and his father were victims of extortion. Redondo owned a chain of book stores and his father, a chain of food stores. "My father was killed for refusing to pay the 'vacuna' – [the colloquial term for extortion money paid to the guerillas]. After that we got everything together and closed," he says.
I received a call and was told I had to disappear or they would find me and kill me
After a brief spell in Bogotá, Redondo and his wife separated: she headed for the United States while he and his two children crossed the border into Venezuela and found a place to stay in Caracas. The odyssey had just begun.
Redondo, now 46, recalls the twists and turns that turned his life into a maelstrom from the FOARE headquarters, the association he set up two years ago in Spain to assess immigrant and refugee applications from Latin America. "It was always a dream of mine to have an association," he says, then, as the phone rings persistently, he tries to recall the dates and details of his life over the past 20 years. What he does remember is the day he gained refugee status in Venezuela.
"I had started to work for mayor's office in Caracas, which was then in the hands of the Movimiento V República, Hugo Chavez's old party," he explains. "In my own time, I helped asylum seekers coming into the country."
In 2004, as the status of immigrants was regulated, he was given Venezuelan nationality. "I was always very critical of the management of the bureaucracy and I won the trust of my boss," he says.
He says these are the reasons why he was threatened again once he stopped working for the mayor. And this time it wasn't for money. "I received a call and was told I had to disappear or they would find me and kill me… I knew who they were, they were people who were very close to the government," he says.
Spain's received a record 23,200 applications for international protection in the first nine months of 2017
In 2005, a couple of government agents came to his home and took him to jail with his children, an indication that his life in Venezuela was over. "They accused me of bringing [Colombian] paramilitaries to Venezuela to kill the President," he says. "I went to UNHCR [the UN refugee agency] … and they got me out of the country." Two months later he was resettled in Spain while his children were reunited with their mother and settled in Canada.
Although the word resettlement became common parlance in Europe just recently with the 2015 refugee crisis, it is a legal concept that has been functioning for decades – Spain adopted it in its immigration legislation of 2009. A voluntary measure for host countries, it represents one of the few safe ways of securing international protection and involves moving a refugee from one host country to another when his or her life is in danger or when the host country can no longer guarantee his or her basic rights or effective protection. In 2016, 189,300 people in the world were resettled, according to government data collected by the UNHCR.
"When I arrived in Madrid, I did what I could: I worked as a warden in a jail for minors, as a caretaker and in security," says Redondo.
Once he had Spanish nationality, he traveled to Caracas to visit the woman he had started seeing after he separated from his wife. The decision was not a wise one. As soon as he landed at Maiquetía airport, he was arrested and accused of changing money on the black market – a common practice due to the rampant inflation that has brought the economy to its knees. "I spent 20 days in jail and they stabbed me twice in the arm," he says. There was never any trial. Redondo was released on bail and effectively 'kidnapped' for four years. "I managed to get back to Madrid in 2015 with safe passage granted to me by the consulate," he says.
I spent 20 days in jail and they stabbed me twice in the arm
Redondo doesn't say much about those four years. He tries to forget them by throwing himself into his association, which keeps him busy. "A lot of Colombians are coming in because of the violence of lawless groups and many Venezuelans because of the critical situation the country is in," he says.
This claim is backed up by the statistics. Economic migration has meant an avalanche of asylum applications from Latin America. With 7,600 applications in the first nine months of 2017, Venezuelans constitute the largest group seeking refuge in Spain while also accounting for Spain's record number of applications for international protection in 2017 – 23,200 in the first nine months, according to Eurostat.
A month ago, Redondo saw his children for the first time in 12 years, "I told them everything that had happened, why I wasn't with them, why I hadn't had the chance…"
His new life has begun, but the wounds are still raw. "It's painful to see your children after so many years and now grown up… it's hard, but they understood."
English version by Heather Galloway.
The New Arrivals
Four million immigrants have arrived in Spain in the last 20 years by plane, boat or by scaling the border fence. More than one million people sought asylum in Europe last year. El País is joining The Guardian newspaper, Der Spiegel and Le Monde in an innovative 18-month journalism project that will explore how the new arrivals adapt to Europe and vice versa. Supported by The Bill and Melinda Gates Foundation, it is a considered examination of the phenomenon that is revolutionizing Spain and the rest of Europe.