Romanians keep their faith in Europe
In a region marked by strong Euroskepticism, Romanian society maintains its trust in the EU as a framework for a better future
It is difficult to find an avenue in Bucharest without an EU flag waving in it. It is the same flag that stood out in the multitudinous anti-government demonstrations that spread all over Romania a few months ago. In a regional environment dominated by reactionary and nationalist policies, the Romanian Parliament is the only one in Eastern Europe that does not have a Euroskeptic party.
According to the latest Eurobarometer study, Romania ranks third as the society that most values EU institutions, only behind Lithuania and Luxembourg. Young people, who were the most reluctant to go to the polls at the last elections, are the firmest believers in the European Union.
Alexandra Dragomir and Radu Dumitrescu, two friends in their twenties, participated in the demonstrations that took over the streets of Bucharest last winter. Despite the cold temperatures, attendance was similar to the demonstrations of Paris in 1968 or Prague in 1989. While Radu searches his phone for pictures, he tells us that the crowd crying out against the political elites carried lots of European flags and signs that read "We love Europe."
We need Romanians to keep their faith in Brussels, in order to keep advancing towards full integration Radu Dumitrescu, youth activist
They both explain, in a interview conducted during a trip to Bucharest sponsored by the European Parliament, that with help from a group of young Italians they are creating a pro-European organization. Its aim is to communicate to Romanian society the importance of continuing to embrace EU values. "We need Romanians to keep their faith in Brussels, in order to keep advancing toward full integration," says Radu. He studied political science and grew disappointed in the traditional parties after years of affiliation in one youth association.
Since its EU accession 10 years ago, Romania has been economically and socially transformed. With a population of 20 million, the GDP of the seventh most-populated EU country – sixth if you do not count the UK – is growing at over 4% annually, more than double the EU average. Unemployment is under 5% and the minimum wage – though still the second lowest, after Bulgaria – has doubled in five years. Foreign investment is growing at a rate of over 10% per year and is at its highest for this decade.
Radu, who's wearing a twelve-star bracelet as his sole accessory, is critical of an association that recently collected three million signatures – about 15% of adults – in favor of a constitutional reform that would prevent, in the short term, the passing of a law allowing same-sex couples to marry. He trusts that European values will promote a more tolerant society. As an example of this, Alexandra mentions the progress made in gender equality since Romania joined the EU.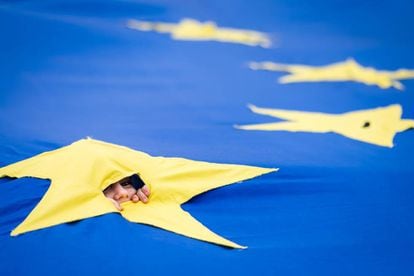 Romania is monitored by Brussels, like Bulgaria, through a verification mechanism that allows the European Commission to draft regular reports on development in the country. Alexandra defends it as a guarantee for the Romanian youth who want a more sustainable, democratic and equal future, against those who dismiss it as a loss of sovereignty.
About 20 Romanian ministers have been involved in court cases since 2004, a figure unmatched in the rest of Europe. "Corruption is an intrinsic part of our society, but thanks to the EU there is no more impunity," says Marius Deaconu, a newly graduated historian who chairs the main Romanian student union. "Joining the EU is the best thing that has happened to the country since its creation in 1881," says Marius. "Employment opportunities have multiplied in recent years. You can even aim for very high wages in sectors such as computer engineering, although these improvements have not yet spread to rural areas," he says.
Many students have had their first opportunity to go abroad thanks to programs financed by European funds. Alexandra says that "most people who study abroad return with a passion for Europe." Marius, a student representative, stresses the need to continue to strengthen the minimum wage in order to avoid "a Romanian brain drain to France or Spain, mainly in sectors such as medicine."
Most people who study abroad return with a passion for Europe Alexandra Dragomir, youth activist
These days, there is little fear about the spread of Euroskepticism after the Brexit vote. Nowadays, Europeans have more faith in EU institutions than they do in their national political bodies. After overcoming various crises, coinciding with the explosion of Emmanuel Macron's unabashedly pro-European rhetoric, the populations of older EU members – France, Germany, the Netherlands and Denmark – are facing the common project with a renewed mentality. In eastern European countries – such as Poland, Hungary and the Czech Republic – the reactionary attitude of its rulers slows this Euro-centric trend. But Romania is the exception.
"We now feel more European than Romanian," claims Constantin Dudu, a thirtysomething who heads an NGO that organizes projects for volunteers from all around Europe. According to Constantin, the historical and cultural similarities with western Europe make nationalism much weaker in Romania, in comparison with its neighbors.
Joining the EU "was the greatest accelerating force of our history and the indispensable salve to heal the wounds left behind by communism," argues Mircea Geoana, a former president of the Senate and former foreign minister. This 59-year-old politician and diplomat, who lost the presidential elections in 2009 by 50,000 votes, supports advancing towards a more sovereign, united and democratic EU. According to him, it is necessary to create a shared intervention force and a common defense budget. "Either we all row together in the same direction, or we will end up at the mercy of the United States and China," he says.
Misgivings about a two-speed EU
European Commission President Jean-Claude Juncker recently defended in his annual State of the EU address that all member states should join the euro and the Schengen area in 2019, when Brexit finally materializes. Both the people and the political establishment in Romania received these statements with enthusiasm.
But the president of the Eurogroup, Jeroen Dijsselbloem, from the Netherlands, poured cold water on the idea when he showed himself willing to extend the euro zone, but "gradually" and once all requirements are fulfilled.
In Bucharest, people have no doubt about their own commitment to greater integration and refuse the idea of a multi-speed Europe. However, they are also aware that adopting the single European currency or joining the Schengen area – the agreement for the abolition of internal borders which Bulgaria, Ireland, Croatia and Cyprus do not take part in – will cause some concern. Romania is, after Finland, the EU country with the longest external borders, at almost 2,000 kilometers.
An Elpais.cat project
Since November 2016, the Catalan edition of EL PAÍS, Elpais.cat, has been publishing a selection of news stories in English.
The texts are prepared by journalism students at the Pompeu Fabra University (UPF), who adapt content from EL PAÍS, adding extra information and explanation to these stories so that they can be understood in a global context.
This article was translated by Lucía Franco, Lucía Blanco and Emma Pons.