"They used to meet in a van and talk for hours and hours"
Cousin of two of suspects in last week's Barcelona attack says imam spent a year creating terror cell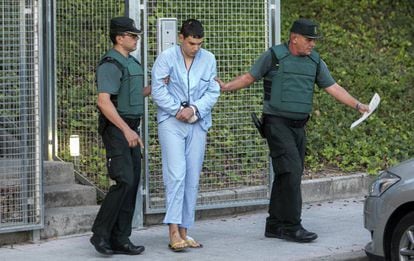 A cousin of two of the suspected terrorists, accused of participating in last week's terrorist attack in Spain's Catalonia region that left 15 dead and over 100 people injured, has denied that their radicalization "was quick."
The youth, who asked not to be named, said "the imam had been meeting with some [of the suspected terrorists] outside the mosque for at least a year."
If alcohol spilled on his hand or touched his body, he got really angry Friend of Youssef Aalla
He said Abdelbaki Es Satty, the imam believed to have been behind the radicalization of the 12 members of the cell based in the small Catalan town of Ripoll frequently met in a van with Mohamed Hichamy and his brother Omar, as well as with 17-year-old Moussa Oukabir and Youssef Aalla.
"They used to meet in the van, parked in an out-of-the-way street and they would stay there for two hours or more. If someone walked past, they stopped talking and started looking at their mobiles," the relative of the suspects said.
"If they met somewhere other than in the van – in the mosque or in the street – they said hello as if they didn't know each other, saying 'As-Salaam-Alaikum ('Peace be with you) and that was it,' the cousin added.
"I was very good friends with Youssef [Aalla, who died in the explosion in a house in the town of Alcanar considered to be the base of operations for the terror cell] and I noticed he was changing about a year ago. He stopped drinking, although we used to get drunk together," said the relative.
Just two weeks ago, they were playing soccer and behaving perfectly normally Cousin of two of the suspects
"If alcohol spilled on his hand or touched his body, he got really angry. He shouted. He also stopped listening to music but before he always listened to hip hop," the young man explained.
He said it was last June during the Islamic fasting month of Ramadan the young men "lost their fear of dying. I think they already knew what they going to do. From that time on they started being really sweet to their mother and families. They were at home a lot and were very attentive. If their mother had a problem, they were there straight away to help," the relative added.
This behavior has been often noted among radicalized young Muslims before an attack.
However, none of these changes raised the alarm among the Muslim community in Ripoll. The  families and friends of the young men did not speak out either.
"We thought it was a stage – that they were growing up. We even thought there was something positive about it."
In the final few months of their lives, the young men even became less strict about their religion – a practice known as taqiyya, which involves hiding religious beliefs – in this case to avoid raising suspicion.
"Just two weeks ago, they were playing soccer and behaving perfectly normally," said the young relative of the terrorists.
The shroud of secrecy surrounding radicalization was so effective that none of the people who knew them could stop them from committing their attack in Barcelona.
English version by George Mills.