Public health
Fecal matter found in food and drink sold on Spanish beaches
Laboratory analysis of products on sale illegally in Barcelona reveals presence of E. coli bacteria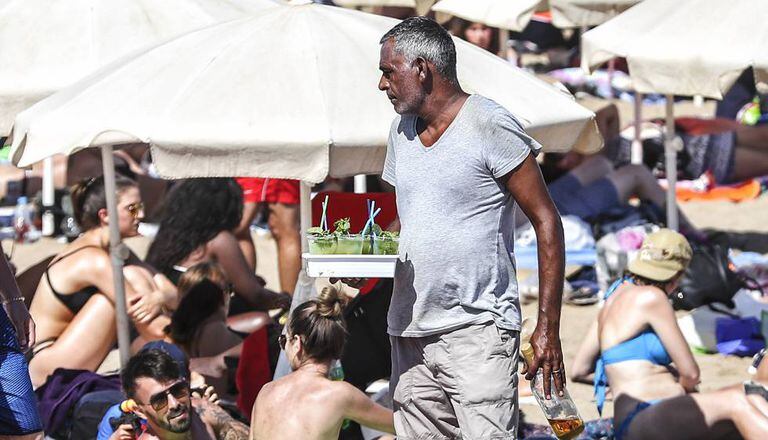 It was five years ago that a hawker first set up on one of Barcelona's beaches with his flag, ice, mint and rum, according to the city's urban authorities. It marked the moment that hawkers went from earning €1 per can to €5 a mojito and led to the beaches of Barcelona being awash with illegal food and drink that does not always match European regulation standards.
EL PAÍS recently decided to investigate and take samples of sangria, mojitos, sandwiches and samosa to be analyzed in a laboratory.
By midday, Barceloneta beach in the Catalan capital is teeming with people. EL PAÍS joins the throng and buys a mojito from a hawker who steadies his tray on the sand with one hand while using his other hand to add more rum to the drink. "The police are constantly hounding us," he says. "If we were thieves, they would leave us alone but it gets under their skin that we are earning our living."
The temperature of the drinks is immediately tested before they are taken to the MicroBac laboratory. "The mojito would be served in an authorized establishment at between 3ºC and 4ºC but this one is 15.6ºC," says MicroBac lab director Carmen García Anglada.
The atmosphere on the beaches changes in the evening and the hawkers multiply, bringing with them not only drinks, but sandwiches and samosas, also selling at €5 per piece.
Lourdes Petitpierre, a technician at the MicroBac lab, checks the temperature of the samosa. It is 29.3ºC. "It's much hotter than it should be when eaten cold. It should be at something like 8ºC and if eaten hot it should be at 70ºC," she says.
Ten days after taking the samples for more detailed analysis, García rings with the results. "We have tested all the samples according to the European regulation 852/2004 that controls food hygiene and which all legal establishments are required to abide by, including fairground stalls," she says.
Only the sangria has passed the test as being fit for safe for human consumption. "The alcohol masks the results," says García who points out that bacteria thrive in high temperatures and in the presence of water and sugar. But the sangria also contains alcohol, which works as "a disinfectant". The drink could also have come out of a carton rather than being mixed by the hawker, in which case the manufacturer would already have included agents that fight the proliferation of bacteria.
The other samples all flag up positive for Escherichia coli (E. Coli) – in other words fecal bacteria. Common in the intestines of humans and animals, it can cause digestive problems particularly in people with poor health.
"We analyzed the aerobic mesophilic content and the coliforms which indicate how the food has been prepared," says García. "The Staphylococcus aureus bacteria and the E. Coli are indicators of the levels of hygiene involved. Finally, we tested for salmonella and listeria monocytogenes which are microorganisms which can cause digestive infections."
The mojito was found to have a count of 720 coliforms when it should have had less than 10.
"Bacteria grow quickly and temperature is key. The same mojito bought an hour later would have contained millions of coliforms," says García, adding that, as far as the presence of E. Coli is concerned, "Perhaps the person making them did not wash his or her hands and contaminated the ice or the glass or both."
Fecal traces were also found in the samosa and the sandwich.
Results of the analysis
Mojito with mint. Bought on Barceloneta beach at a temperature of 15.6ºC at the time of purchase. It had a coliform count of 720, which should be less than 10. The MicroBac lab detected Escherichia coli – or E. Coli, bacteria found in the intestines of humans and animals.
Ham and cheese sandwich. Bought on Somorrostro beach with a temperature of 27.6ºC at time of purchase. It had a count of 6,000 coliforms, which should have been less than 1,000, and an E. Coli count of 100 when it should not exceed 10.
Samosa. Bought at a temperature of 29.3ºC on Somorrostro Beach. Traces of E.Coli were detected.
English version by Heather Galloway.