Madrid's Retiro: the place to beat a slow retreat from the August heat
Visitors and residents alike will find refuge from a sweltering summer in this French-inspired park
An elegant woman in a black dress and red hat drags a suitcase along the incline connecting the pond of Palacio de Cristal exhibition hall with the Palacio de Velázquez. A busker is playing an act from La Traviata on his accordion, which is drowned out among the babble of languages spoken by tourists hailing from all parts of the world. The soundtrack to the scene, which has something of the Woody Allen about it, changes as the accordionist launches into a version of Puerto Rican dance hit Despacito. The faces of children gathering around suddenly light up, and the adults seem just as joyful, revealing – once again – that Madrid's Retiro Park is a place with something for everybody.
The Retiro has witnessed many of Spanish history's most dramatic events
Four centuries have passed since it was created as a retreat for Phillip II and his family. The 118 hectares of flower and fauna preserve the essence of the place and make it a popular destination for those seeking peace in Madrid's notoriously noisy city center. For Marisa Ruiz, a neighbor of the historic park, today is the first time  she has visited Retiro this year, substituting it for her usual walk along the Manzanares river. "In reality though, there's nothing like this park. I love the rose gardens, the Fountain of the Fallen Angel with its statue, and everything else in the Retiro in general" she says.
Although many older people simply come to sit on a bench in the shade provided by some 19,000 trees, the Retiro is also a kind of outdoor museum (hosting a large and varied collection of statues), a place of recreation (on the grass or in the trees), a historic site, or simply as a refuge for urban wildlife, some of it with two legs, like six-year-old Gonzalo, imitating the roar of a lion as he roams the grounds. "It's like an entire city, just for us," explains Gonzalo.
This summer, adults can visit an exhibition by German artist Fran Erhard Walther, A Place for the Body, which features a series of gigantic sculptures made from tiny objects, is on display at the Palacio de Velázquez until September 10. Its name comes not from the Spanish painter who produced Las Meninas, but the architect who designed it, Ricardo Velázquez Bosco, also responsible for the nearby Palacio de Cristal. Reminiscent of wrought-iron 19th century greenhouses, the two buildings are used to house temporary exhibitions of contemporary art in conjunction with the Reina Sofia contemporary art museum.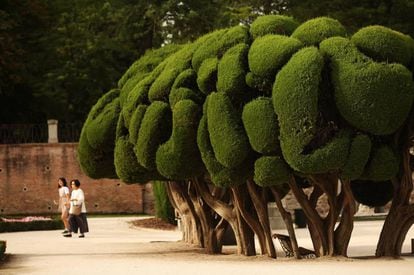 Exhibitions are also held in the Casa de Vacas, a former dairy farm turned cultural center built in 1873 to supply fresh milk to residents of Spain's capital. At present it is hosting works by Spanish artist Pepe Carretero: La mirada íntima ("The intimate glance").
To get to know the park properly, take a free guided tour. The journey begins at the Estanque Grande boating lake, the only feature not to have been moved over the centuries. Despite the peace the park  emanates today, the Retiro has witnessed  many of Spanish history's most dramatic events: the Peninsular War against Napoleon (when the French camped here to attack the capital), various economic crises (Queen Isabel II had to sell part of the park when faced with a major financial crisis), and, of course, the Spanish Civil War. All this history can be discovered in the tours organized by Enjoy Madrid, which depart from the monument of Alfonso XII, a magnificent site featuring the works of around twenty sculptors.
Or if you prefer to go solo, you can  download the Parque del Retiro mobile app from Madrid City Hall.
Retiro: fast facts
Area: 118 hectares
Administration: Madrid City Hall
Hours: From April to September, from 6am to 12am
Places of interest: Monument of Alfonso XII; Palacio de Cristal; Estanque Grande; Palacio de Velázquez; Puerta de Felipe IV; the Ahuehuete (said to be the oldest tree in Madrid); La Rosaleda rose garden; La Chopera sports center, the works of architects Ábalos and Herreros.
How to get there: Metro: Retiro (line 2), Príncipe de Vergara (lines 2 and 9), Ibiza (line 9), Atocha (line 1), Atocha Renfe (line 1). Bus: lines 1, 2, 9, 14, 15, 19, 20, 26, 28, 32, 51, 52, 61, 63, 74, 146, 152, 202, C. Bicycle rental: through the entrances of Puerta de Alcalá, Puerta de Ibiza or Puerta de Atocha.
Should you find yourself hungry along your walk, everything from nachos to gin and tonics is available in the terrace cafes. Worth checking out is the Florida Retiro, a former dinner and dance night club that has just been renovated and now has several restaurants, along with theater and dance options.
English version by Henry Hahn.