Parks in Spain | Part 2
Spain's Aranjuez Royal Palace: An oasis of escape for Madrid's dog days
Head to the southeast of the region for some water, shade, and peace and quiet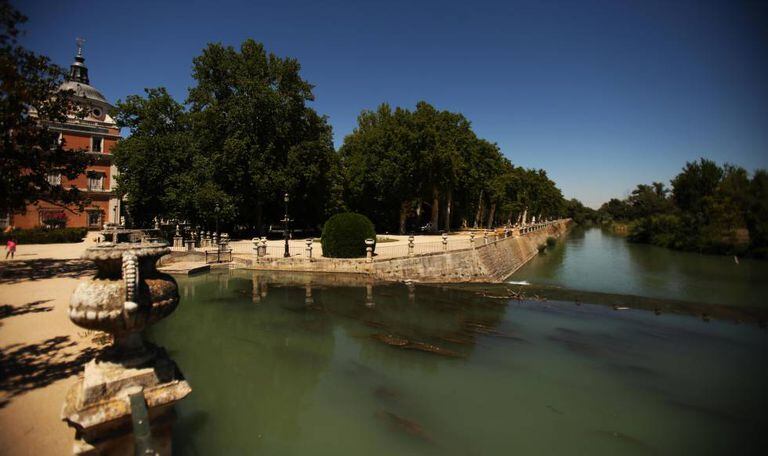 For the last 36 years, "Carlos" (he prefers not to give his real name), has been working in the palace's four gardens: the Jardín del Parterre, Jardín de la Isla, Jardín del Príncipe, and Jardín de Isabel II.
"It's an honor to work in a patrimonio histórico [a historic site with national heritage designation]," he says. "It's a very different experience. There are almost 200 hectares, well laid out, where even just planting a flower, pruning it and watering requires a different approach." 
During a time when Spain is seeing a rise in anti-tourism sentiment, many visitors value the fact that the gardens are not so popular
On a sweltering August day there is shade to be found in the Jardín de la Isla, its name ("Garden of the Island") owing to the fact that it is surrounded by water on all three sides: the Tagus river, an artificial inlet from the river, and the Royal Palace.
While Carlos takes a shortcut through clusters of hundred-year-old trees, he fondly recalls the days of the "chillos," children aged between 12 and 14, who brought water to the gardeners. Those were different times – not just because of child labor, but also because the fountains actually had water in them. Today, of the 13 fountains in the Jardín de la Isla, only four still work. "The budget for national heritage parks has never been so low," the faithful gardener complains. A security guard adds that there are some under repair. And their absence is critical: the few visitors the park has are concentrated along the banks of the river beneath the shade, facing the fountains.
During a time when Spain is seeing a rise in anti-tourism sentiment, many visitors value the fact that the gardens are not so popular. Piedad, who is visiting Madrid with a friend, dropped her bags off earlier in the day, and went straight to Aranjuez. "It's a great place for the summer. There may be a lack of water and people here, but one can appreciate it coming from Barcelona," she says. During their visit to the palace and its grounds, she and her friend will visit the Casa del Labrador hunting lodge in the Jardín del Príncipe (it can only be seen on guided tours).
Ostap Jaskovic, a Ukrainian man who has lived for 10 years in Alcorcón, a city to the southwest of Madrid, also appreciates the park's serenity: "I'm always looking for nature and peace, and I can find those two things in these gardens."
Throughout the forests and parks that surround the Royal Palace of Aranjuez, there is hardly a sound. All that can be heard while traveling through the labyrinth of shrubbery that surrounds the Jardín de la Isla is the flow of the Tagus – and equally softly, the songs of birds and the distant laughter of children playing hide and seek among the trees. Indeed, this World Heritage site – which also includes the palace – seems to serve as a place of refuge for tourists and people from neighboring towns.
For Ascencia Sevilla, aged 64, and Miguel Mena, aged 65, this park offers something very different to their usual surroundings. They live in Rivas, a nearby city, and had not visited the park in 10 years. They are using this vacation as an opportunity to reminisce. "We've changed, we know more, we understand the value of something like this. Now we appreciate the nature and the weather," Sevilla says. Those who have never been to the park and want a guided tour can take the Chiquitrén, a small tourist train that takes you through part of the Jardín del Príncipe. This was the option chosen by María Olgún, a 73-year-old Peruvian woman visiting Spain for the first time: "I came because I heard so much about the architecture and the parks. And it's true that their beauty is incomparable."
Visitors may face some difficulties at lunchtime, however, and not because of a lack of options. On the contrary, there are too many to choose from. In the entrance of the Jardín de Isabel II alone, four people are handing out brochures for their respective restaurants. Emilio Jara, who opened his own place 20 years ago, maintains that people who visit the parks of Aranjuez want to see nature and eat well. "That's why, in my pamphlet, I include both a menu and a map of the place, with fountains and all," he explains. Indeed, offers of Spanish rice and veal line one side of the brochure, and on the other, the classic "You are here" tourist map, with a schedule for when the fountains are operational – something important during a time of budget cuts.
Aranjuez: fast facts
Area: 200 hectares
Ownership: Spanish state agency, Patrimonio Nacional.
Hours: June 16 to August 15: 8am to 9.30pm. August 16 to September 30: 8.am to 8.30pm.
How to get there: By car, take A-4 and exit at M-305. By train, take Cercanías line C-3
Places of interest: Royal Palace of Aranjuez, Casa del Labrador and the Museo de Falúas Reales museum. The Fuente de Narciso and Fuente de Las Cabezas fountains, both at the Jardín del Príncipe park, as well as the Fuente del Espinario and Fuente de Hércules e Hidra fountains, at the Jardín de la Isla park.
English version by Henry Hahn.
Adheres to