Cities for rent
Tourism is no longer considered an absolute good. Where locals once welcomed visitors with open arms, they now dread their arrival. From Palma de Mallorca to Barcelona, tourists are being seen increasingly as invaders, guilty of pushing up prices and destroying the character of their destination. Tourism-phobia is now a reality
During the incessant takeoffs and landings at Son San Joan Airport, planes soar above a sea of metal, which turns out to be row upon row of rental cars, around 90,000 of them, for the tourists coming in. If you arrive in Palma de Mallorca by ferry your view of the city will be obscured by a thick forest of masts belonging to the vast cruise ships that idle in the port.
Between April 1 and November 1, the Balearic Islands are littered with signs telling you rooms or apartments are taken. It is hard to find anything available during the seven-month season despite there being 600,000 beds and 24,000 berths to accommodate the flood of visitors from the 1,500 flights daily.
Over the last 20 years, the islands have become venues for a non-stop party packed with tourists whose numbers grow annually. Record upon record is broken and this August it is predicted there will be as many tourists as locals. But is that cause for celebration?
While some rub their hands with glee, others shake their heads in despair. "Before it was a friendly kind of tourism and we were happy to live with it," says Neus Prats, 48, spokesman for the Ibiza Nature Studies Group (GEN-GOB). "Now we no longer look forward to summer. We just put up with it. There's been a massive loss in quality of life."
Mallorca's heyday when tourists included intellectuals, artists, celebrities and the super-rich is now no more than a distant memory as the island entertains a culture of mass tourism that is adversely affecting the local environment.
Plenty of people are paying their mortgages thanks to tourism rentals Housing activist Ángela Pons
This summer, alarm bells are ringing louder than usual for locals and politicians. Although the problem is most pressing in Ibiza, Barcelona and Palma, it is spreading through the entire Balearic Islands as well as affecting certain cities on mainland Spain.
Ibiza is a prime example of a tourist destination with not enough accommodation or infrastructure to cater to the needs of a population that doubles every summer. Efforts have been made to improve services but accommodation remains a problem, with much of it simply sub-standard.
The 70,000 to 80,000 seasonal workers who arrive from the mainland to work the summer often share apartments with 12 others and pay €500 a month for a bed or sofa: either that or they sleep in cars or tents. In recent years, there have been outlandish accommodation listings including a mattress on a balcony going for €500 a month and a camping van for €700. Summer exploitation of this kind could get worse.
"You're left with practically nothing because we are on a Third World wage of around €1,100 to €1,200 a month," says Yolanda Navas, 39, from Granada, and who this year got lucky and has been given a bed with her hotel job. "I have been coming here for 18 years, but like others, I'm thinking of leaving."
Meanwhile, Carlo Crespo, 44, who works at a hotel in Ibiza, says: "I know of three cases of people coming to work the summer and having to return to the mainland because there was nowhere to stay."
Then there are those like teacher Natalia Aguilló, 34. She has to return to her parents in Valencia every summer because her shared apartment gets rented out for €1,600 a week during the high season. "I come back in September but it's awkward having to move twice a year. You can't plan to settle down or have a family. I have been asked for as much as €10,000 a month in rent in Ibiza." On a salary of €900, Sergio, a computer engineer, pays €650 for a room with a shared bathroom and kitchen.
We no longer look forward to summer. We just put up with it Neus Prats, Ibiza Nature Studies Group
A section of the local population in Mallorca has started to see tourists as intruders and predators who are threatening their natural habitat. And though nobody would deny that tourism is the main source of income on this island, it is no longer seen as unequivocally beneficial or something to be accepted at any cost. Locals are growing sick of the way the mass tourism model is encroaching on their lifestyle. Not only are they unable to meet the absurdly high cost of living on the island, but they are also witnessing the desecration of their city's character and the collapse of their services and infrastructure. Along with the tourists has come tourism-phobia.
So, who is benefiting from so many visitors? What good do 20,000 to 25,000 cruise ship passengers on an all-inclusive deal arriving at the Palma port do the locals? Who is making money from the drunken behavior of tourists in Magaluf? Locals are starting to ask these kinds of questions. Some are demanding that action is taken on rents and there are those who have started shouting directly at tourists: "You are not welcome! Go home!" It's a delicate balance because if there's one thing that will send the tourists packing it's the feeling they are unwanted.
According to the European Social Policy Network, a thriving tourist economy in Mallorca has no effect on the 115,000 locals living in poverty. Once the richest region in Spain, the Balearic Islands have dropped to seventh place in the past 20 years.
"Income and salaries have fallen as tourism has turned into mass tourism. Year upon year, the profit margin has fallen and the cost of having the visitors is not sufficiently compensated for. Public services are on the point of collapse: health, water, traffic and pollution [are all problems]," says Jaume Garau, a Socialist Party (PSOE) deputy in the regional parliament who is co-founder of the Palma XXI Association, which unites people concerned about the city's development.
"Each tourist consumes 278 liters of water a day compared to the 105 liters consumed by locals. Last year, between 12 and 14 million tourists came here. The regional government has racked up a massive debt and this year we have to pay the banks €35 million in interest alone, which means the investment margin is reduced to just €170 million. The survivors are the big companies and hotels that have massive financial reserves, such as the urban luxury hotels that cost €300 to €400 a night, the big distribution companies and the shipping companies."
You're left with practically nothing because we are on a third-world wage Hospitality worker Yolanda Navas
In the streets of Palma, the sound of wheeled suitcases on the cobbled streets announces the ubiquitous presence of the tourist and advertises their comings and goings from the thousands of rented apartments and rooms found on digital platforms. Locals are desperately trying to cash in on the annual invasion by listing their homes on Airbnb, which has 54% of the online market. Studies show that profits from undeclared online rentals are more than twice those of traditional renting models.
"At the start of the season, the average price of tourist accommodation in Palma was €200 a day for an apartment and between €70 and €80 for a room," says Marisa, who works for a local estate agent.
The overwhelming demand for this kind of accommodation generates a climate of greed but many locals would argue they are simply helping themselves to their rightful piece of the pie. Few are put off by the €4,000 fines. They advertise their properties, which, according to environmental associations such as Terraferida, amounts to 200,000 additional beds. They are beds that would otherwise be used by locals. But why rent to a local for a year when you can make far more money renting to tourists on a weekly basis? The practice has led to massive price hikes in the local rental market.
But it's not just about the prices. The sheer number of holidaymakers in high spirits interferes with the relaxed rhythm of daily life on the island.
"[Tourists] undoubtedly bring trouble, yes," says Francisco Aguilar, President of the Residents Association in Calle Cervantes, Palma de Mallorca. "Only the other day, some Germans went up to the terrace during the night to party."
Antonia Pascual, a member of the association, adds: "[Locals] rent out rooms but don't pay any tax and the rest of us have to continually put up with people enjoying a different lifestyle."
A taxi driver chimes in, saying: "We had to seriously warn some of our neighbors because of the outrageous things their tenants were getting up to."
How many tourists swear they won't return to an overcrowded island with traffic jams and scandalously high prices?
This type of resentment has lead to posters like one issued by the Comando Artístico Isleño nihilista (CAIn), a collective on the island of Ibiza that protests against inequality, the privatization of the coastline and the exhaustion of underground water reserves. "Dear visitors. We have opened up our homes. To start with, you were well behaved but in no time you were crowding out the living room, partying in the kitchen and peeing off the balcony. You are no longer welcome," the poster reads.
In spite of all this, the regional government has agreed to legalize tourist apartments on the condition that neighbors approve, all the necessary paperwork is in order and the corresponding taxes are paid. The move has the support of associations such as the anti-evictions group PAH but not the neighbors associations and other collectives who believe in applying state law and banning it outright.
"Plenty of people are paying their mortgages thanks to tourism rentals. To ban it would be an act of hypocrisy," says PAH spokeswoman Ángela Pons.
But Marga Clareda, coordinator at the anti-eviction department at Palma City Hall, points out that evictions for failing to pay the rent are now more common than evictions for failing to pay the mortgage. In fact 77% of the 18,000 evictions between 2003 and 2014 were of tenants. "Many don't get their contracts renewed or have their rent hiked from €700 to €1,500 to get them out. And these aren't necessarily people on low rents. A lot of people have nowhere to go and I'm talking about families on a regular income."
The brutal rent hikes are particularly hard on single-parent families and the unemployed. "What hurts most is having to live apart from my children," says Isabel Mas. "I work for ONCE [the association for the blind] and I earn €700 a month but they were asking €1,000 a month to live in an apartment in Can Redó. I've had to send my kids to live with their grandmother while I have gone to live with my sister. I feel so tired."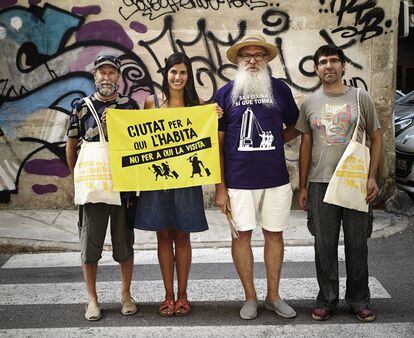 Jackeline García, a mother of four, has gone to court to stop being evicted from state-protected housing. Thanks to help from the town hall, Valeria Viyerio, a mother of two, has managed to pay what she owes and stave off an eviction, giving her a respite.
"I've decided that I'm not leaving this house," says Ángela, 47, a divorcee with an eight-year-old son. She was paying €780 a month and is now being asked for €1,400.
Taking out a loan to pay the rent and then subletting the rooms to tourists is one option, although, as Beatriz, 45, says, "There are almost no apartments for rent that are not impossibly expensive."
Another way of dealing with the situation is for families to pile into one home while renting out the other.
Professionals, albeit to a lesser degree, are also being affected by the trend. Spanish teacher Ana Belén Esteva, 43, got a wake-up call the day her contract finished. "From one moment to the next, I became one of a stream of desperate people, many of whom worked in healthcare and education, looking for somewhere to live and not finding anything anywhere," she says.
This August it is predicted there will be as many tourists as locals in the Balearic Islands
Since the economic crisis, it's common for landlords to fix the length of the contract to match the length of the tenant's work contract. "The right to a place to live can't be subject to market forces," says Josep Maria Montaner, housing councilor for Barcelona. "We need a public initiative that will guarantee housing for people evicted due to speculation practices at that time."
An urban architect, Montaner is convinced that Barcelona's new urban planning strategy, approved in January, will address the problem. "As well as preventing homes being turned into hotels or tourist apartments, the plan regulates the construction of new tourism apartments in the neighborhoods where they will threaten the lifestyle and rights of the locals. Our housing problems may still exist, but we can sort out the tourist industry. Barcelona has a model," he says.
The culture of mass tourism has entered a paradoxical phase in which it could become the victim of its own success if it isn't controlled. Some towns have taken Barcelona's lead, imposing fines on unlicensed vacation rentals and limiting hotel accommodation in areas that are already saturated.
An obvious consequence of mass tourism is neglect. It's been a while since wealthy visitors came to urban areas, such as Terreno, which has now been converted into a war zone for Latin American gangs. How many visitors now go home with no desire to return because of the theme park nature of their experience, complete with traffic jams, insanely high prices and salt-water showers because the system for extracting the salt broke down?
The survivors are the big companies and hotels that have massive financial reserves Jaume Garau, Socialist deputy
Foreigners account for 40% of year-round residents in Mallorca and many are also cashing in on the tourist property market. And then there are the big players who are threatening to dominate it altogether.
"Landlords of tourist apartments have gone from being families to being big investment groups who are anything but transparent, don't declare their earnings and hide behind the original image of the Airbnb," says Jaime Valdivielso, of the environmental group Terraferida.
Airbnb advertises 78,543 tourism rentals in Mallorca. And staff from real estate firms managed mostly by Scandinavians, Brits, Germans and Russians readily admit to using the digital platform to advertise the properties on their books.
"We are poor," says Joan Forteza, president of the Federation of Neighborhood Associations, which is gathering signatures against the legalization of tourist apartments. "Our salaries and pensions are half that of other European countries. There's foreign capital and Scandinavian investment groups behind a lot of real estate companies that are snapping up entire buildings. They sell or rent these properties and in 10 years they have paid for themselves. If we don't do something, the gentrification process will change the character of Palma. We are about to become a town, with nothing but shops in German, English and Swedish, a town without cinemas, schools or local businesses. A town of souvenirs and franchises and hotel chains. Isn't this obvious?"
In Jane Jacob's famous book, The Death and Life of Great American Cities, she warns against cities revolving around profits and being subject to the law of supply and demand instead of acting as spaces that nurture diversity and encounters. The paradise that Frédéric Chopin, George Sand, Robert Graves, Rubén Darío, Camilo José Cela and other artists and intellectuals discovered in Mallorca has not been swallowed up entirely, but you have to wonder if these Mallorcaphiles would still find inspiration for their works of art.
The challenge for the Balearic Islands now is to combine tourism with the right to decent local housing while preserving the history, character and charm of the place itself.
English version by Heather Galloway.