SOCCER
Saúl's hat-trick puts Spain's Under-21s into final of Euro Championships
Working in tandem with Dani Cebades, Atlético Madrid midfielder sets side up for fifth title
A comfortable 3-1 win against a 10-man Italy on Tuesday evening in Poland sent Spain's under-21 soccer side through to the final against Germany in Krakow on Friday.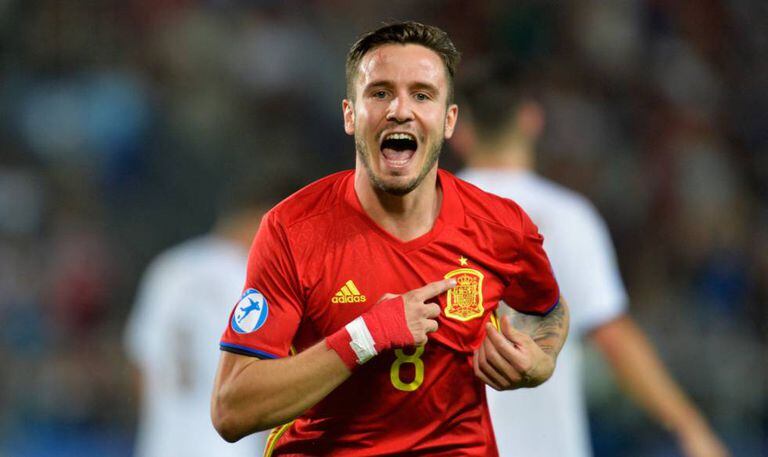 After an uneventful 45 minutes in which neither side seemed willing to commit to attack, left-footed Atlético Madrid midfielder Saúl Niguez took control in the second half, and eight minutes in, finished off a pass from Betis midfielder Dani Ceballos in the penalty area, beating Athletic Bilbao keeper Gigi Donnarumma. It was the 22-year-old's third goal of the competition in his third game. From then on, the Saúl-Ceballos tandem would dominate, constantly pushing forward from midfield.
Five minutes later Roberto Gagliardini was shown his second yellow card after repeated fouls on Dani Ceballos. Down to 10 men and a goal behind, Italy nevertheless pressed on.
We corrected our mistakes and went out with a different mentality Dani Cebades
Bernardeschi cut inside from the left and made his way across the edge of the penalty area and took a lucky shot that deflected off defender Jesús Vallejo and beat Kepa Arrizabalaga to put Italy back in the game.
But three minutes later, captain Gerard Deulofeu passed to Saúl, who from 30 meters sent the ball sizzling past Donnarumma, putting Spain back in front.
Within 10 minutes, Ceballos started an attack down the left, passing to Marco Asensio, who flicked the ball back to Saúl, who finished with his left foot. Spain were 3-1 up and Italy in a state of shock.
The Italians fought back, launching counterattacks, but were largely unable to penetrate past the midfield. Spain continue on to a final against Germany on Friday.
"This team deserves to be champions. We have done a really good job, it's been an intense game," said Saúl afterward. "We're going to try to keep on growing and the best is yet to come. We have to think about resting and the final," he added.
Spain's Under-21 head coach, Albert Celades, praised Saúl, highlighting the threat the midfielder poses when he is allowed to push forward. "He is most comfortable in that position and he is helping us by being in the area. The hunger he shows each time he comes with us is tremendous."
Celades had praise for the rest of the side: "We are very satisfied with everybody's performance. We have very good players who are at their peak, but our real strength is playing as a group. Now we are all going to prepare the final and see what we can expect from Germany."
Ceballos, whom Atlético Madrid and Real Madrid have shown an interest in signing, was given an unprecedented showcase for his talents on Tuesday. "It was a dream match. I've been waiting for this moment for a long time, it was one of the most important games of my life and I knew how to take advantage of it. As the minutes passed, I felt more and more comfortable and I was dribbling and passing," he said, adding: "We corrected our mistakes and went out with a different mentality. From Saúl's first goal the team knew how to manage the game and we deserve to be in the final. We have a fifty-fifty chance of winning."
The Germans are favorites, but based on Spain's performance on Tuesday night, they will have their work cut out.
English version by Nick Lyne.