Cuban-American millionaire to donate art treasure trove to Spain
US collector Roberto Polo to hand over 7,000 contemporary artworks to two Spanish museums
The collection of modern and contemporary art belonging to multimillionaire Roberto Polo is to find a new home in two locations in Spain. From summer 2018, part of the art historian's treasure trove of more than 7,000 paintings, sculptures and photographs will go on show at Toledo's 13th-century Convento de Santa Fe, with other work to be displayed at the former public records building in Cuenca – also a former headquarters of the Spanish Inquisition.
Works from the huge collection – insured for €50 million, although no official valuation has been carried out – will be shown on a rotating basis for a period of at least 15 years, with the collection to gradually be ceded in its entirety to Spain.
The collection covers the period from the late 19th century to the present day with a focus on central, eastern and northern Europe, and the United States. It includes pieces by such 20th-century luminaries as German artists Max Ernst and Kurt Schwitters, and Hungarian painter and photographer László Moholy-Nagy. The United States is represented by figures including abstract artist Larry Poons, the painter and sculptor Martin Kline and by Karen Gunderson, among many others.
Last but not least, Polo, 65, whose parents moved to Miami from Cuba after the Castro regime seized their assets in 1961, will donate to Spain part of his fabulous library numbering thousands of art history books, many of them first editions.
The fact that the collection is going to Spain is a dream, I am happy Roberto Polo
The historic donation on the part of a grand patron of the arts, philanthropist and former majority shareholder of the auction house Sotheby's, will come without a price tag for both the Spanish state and the region of Castilla-La Mancha, where the collection is to be housed. As such, Spain will become the home to one of the largest collections of contemporary art in the world.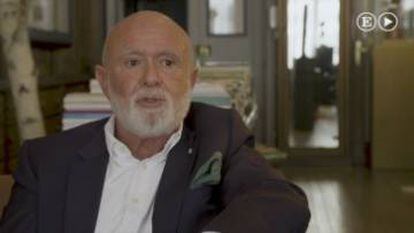 "This operation is proof that when things are done using your head – and you have bit of luck, because you don't always come across collectors [like Polo] – state and regional governments don't need to hand over huge sums of money," said one of the people involved in the bringing of the Polo collection to Spain, speaking on condition of anonymity.
"Spain has been off the map in terms of contemporary international art because of the inferiority complex that [Spanish philosopher José] Ortega y Gasset wrote and spoke about," said US art critic Barbara Rose, curator of an exhibition of Flemish and US art from the Polo collection currently on show in Malaga.
"This means that when these works arrive in Toledo and Cuenca it will fill a gap in terms of both history and museums, a phenomenon similar to when the Thyssen-Bornemisza Museum opened in Madrid [in 1992]," added Rose.
These works will fill a gap in Spain in terms of both art history and museums Barbara Rose, art critic
News of Polo's gift to Spain comes after a period of intense speculation over the final destination for his collection, with three Spanish cities, another European city and a location in the United States all vying for the honor. But Polo finally chose Cuenca and Toledo.
"The fact that it is going to Spain is a dream, I am happy," said Polo. "I will keep buying and collecting but I want the current collection to remain where it is. In August, I will turn 66 and the time has come to lay down some roots and leave a legacy," said the philanthropist, who comes from a family of rich industrialists and began buying art at the age of 19.
"I've always preferred to dedicate myself to artists and movements that are out of fashion," said Polo, who is the descendant of emigrants from Spain's Galicia region.
English version by George Mills.