TOURISM
North Korea hopes to woo Spanish tourists with charm offensive
Presentation in Madrid aims to dispel "myth" of closed country, highlighting speedy visa approval
North Korea launched a charm offensive in the Spanish capital on Thursday, with the normally secretive state opening the doors of its embassy in Madrid to journalists, who had been invited to a presentation of the country's plans to develop a tourism industry, and with it, bring in much-needed foreign currency.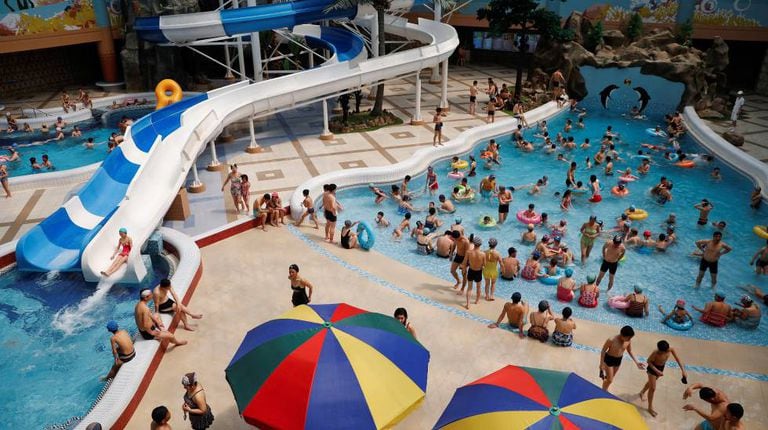 "They say it is difficult to travel to our country, but that's not true. You can get a visa in less than a month," said Kim Hyok-chol, North Korea's ambassador to Spain.
Along with newly built resorts and theme parks, a rapid slide presentation highlighted North Korea's magnificent scenery, as well as architectural feats such as the tallest victory arch on the planet. Kim did not mention the more than 200,000 political prisoners Amnesty International estimates are held in jail, and there was no talk of the demilitarized zone or the country's leader, Kim Jong-un.
There was no mention the more than 200,000 political prisoners Amnesty International estimates are held in jail
During the presentation, Taleb Rifai, the Jordanian Secretary General of the UN's World Tourism Organization (WTO), encouraged Spaniards and Europeans to visit North Korea, saying this would help open the country up to outside influences: "The more Europeans go to North Korea, the more opportunities North Koreans will have to learn about the wider world."
Rifai recently visited North Korea, where he said he received a warm welcome: "I have never met such hospitable people."
But while the WTO, which is based in Madrid, is encouraging people to visit North Korea, the UN Security Council is imposing sanctions over the 10 missile tests Pyongyang has carried out this year.
North Korea has also ramped up its anti-US rhetoric in recent months. Mr Kim blamed Washington for escalating the diplomatic conflict. "The United States has used the media to demonize our country with fake news," he said, adding: "They say my country is closed, that it is difficult to enter, but it is the United States that is closing its doors."
Visitors to North Korea, a country with a population of 25 million, must be accompanied by an officially appointed guide. "If you wish to eat in a restaurant in Pyongyang you can go alone, but if you wish to visit areas outside the capital, you will be accompanied," said Mr Kim, insisting that such measures were a safety precaution: "Until now, this has been the safest and most comfortable way to travel in the country."
The WTO says that some 120,000 people visited North Korea in 2014. Mr Kim says the country is aiming to increase that figure to one million within 10 years and aims to learn about developing its tourism industry from countries like Spain. He says that the North Korean government is developing its tourism infrastructure to attract greater numbers of overseas visitors and plans to speed up visa application approval to around one week.
English version by Nick Lyne.