Venezuela's defense minister admits use of excessive force at protests
General Vladimir Padrino López warns he will tolerate no more such behavior from the National Guard
The Venezuelan defense minister, General Vladimir Padrino López, has publicly warned that he will not tolerate new excesses from National Guard troops sent out to control street protests.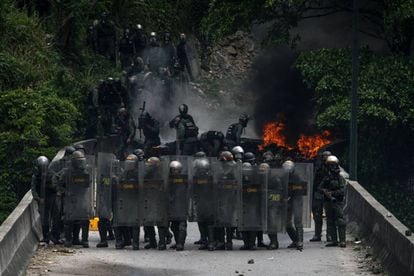 "I don't want to see another national guard committing an atrocity in the street," said Padrino at a talk held with other senior officials in Fuerte Tiuna, the army's biggest barracks, to the southwest of Caracas.
"Whoever veers from the line of the state, from the pre-eminence of respect for human rights, and who doesn't behave like a professional, will then have to assume their responsibility," he stated.
The general was speaking at an event that is part of a series of conferences about President Nicolás Maduro's plans to rewrite the Constitution by convening a National Constituent Assembly.
His speech was being broadcast nationally by the main state television channel when the high-ranking military officer made the unusual admission.
The comments came on day 67 of street protests called by the MUD coalition of opposition parties to fight what they describe as the "continuous self-coup d'etat." This coup began, they argue, with decisions made by the Supreme Court that effectively dissolved Venezuela's parliament and gave Maduro the power to legislate, and which was extended from May 1 with his decision to convene the constituent process.
On Monday, the ferocity deployed by the military forces reached new heights
The National Guard and the Bolivarian National Police have been at the forefront of the repression against the demonstrations, and there have been numerous reports of excessive force used by both.
A recent report filed by Chief Prosecutor Luisa Ortega Díaz stated that 19 state security officers, among them 14 members of the National Guard, have been charged with serious human rights violations – including homicide – while trying to control the unrest.
On Monday, however, the ferocity deployed by the military forces reached new heights. Many testimonies in the media and on social networks showed members of the National Guard seizing property from the protestors, using firearms, and attacking reporters who were covering the protests.
Army General Padrino López made public and specific mention of the National Guard in his address. The militarized body was created in 1936 by the then-President Eleazar López Contreras. The current Interior and Justice minister, Néstor Reverol, is a retired general from the National Guard and one of its former general commanders. Reverol, who has been accused in US courts of ties to drug trafficking, was not present at the event where Padrino made his statement.
English version by Simon Hunter.