US officials slam Goldman Sachs for giving Venezuela financial "lifeline"
Investment bank purchased $865m worth of bonds in state oil company PDVSA at a steep discount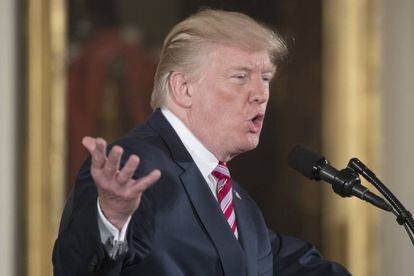 According to a report from news agency Reuters, White House officials expressed their concern days after it emerged that Goldman Sachs had bought $865 million of state oil company PDVSA bonds at a steep discount.
"We're concerned by anything that provides a lifeline for the status quo," one US official told Reuters, on the condition of anonymity. "I would prefer them not to."
We're concerned by anything that provides a lifeline for the status quo
US official
In the operation in question, the US investment bank acquired $2.8 billion of bonds with a 69% discount, paying 31 cents on the dollar.
Another source stated that US firms investing in Venezuela should "think morally about what they're doing."
The White House is yet to make official comment on the operation, despite the fact that a number of Trump's close advisors are former directors of the New York bank.
In a statement sent to EL PAÍS, the speaker of the Venezuelan National Assembly and opposition leader, Julio Borges, expressed his desire that the US government investigate what he described as an "opaque transaction," describing the economic deal as "illegitimate."
"Any bank that chooses to provide a financial lifeline to the Maduro regime must know that they are taking advantage of the bloodshed of the Venezuelan citizens who are seeking peaceful political change for our country," Borges stated.
Last week, in a letter sent to the CEO and chairman of Goldman Sachs, Lloyd Blankfein, the speaker of the legislative chamber – which has been stripped of its functions by President Maduro – accused the bank of offering an opportunity for the government to "strengthen its brutal repression" with the financial support provided. Blankfein rejected the criticism and defended the legitimacy of the transaction.
The Japanese bank Nomura has also bought Venezuelan bonds in recent days
The Goldman Sachs operation was facilitated by another US investment firm, Dinosaur Group, which is based in New York and London. The Japanese bank Nomura has also bought Venezuelan bonds in recent days, encouraging more investors to bet on the continuance of the chavist regime in power.
For more than two months now the Maduro government has been suppressing demonstrations by its citizens, which have been prompted by the serious humanitarian and economic crisis that is ravaging the country. More than 60 people have died during the unrest, and there have been thousands of arrests.
As well as the protests, the regime is also subject to pressure in the international arena. Since the beginning of April, the Organization of American States (OEA), the biggest regional forum of its kind, has held a number of meetings to address the situation in the South American country. The latest of these, held between foreign ministers from the region, concluded last week with no consensus on how to reopen stalled negotiations between the Maduro government and the opposition.
English version by Simon Hunter.