After US request, Spain considers sending troops to Afghanistan again
But Defense Ministry is weighing other options, like extending its presence near the Turkish border
Over a year and a half after concluding a mission that lasted nearly 14 years, Spain is considering a return to Afghanistan following a request made by the United States to its allies. The goal is to reinforce military presence to support the Afghan government, which is unable to effectively control the country. Spain currently keeps no more than a couple dozen troops at NATO's general headquarters in Kabul.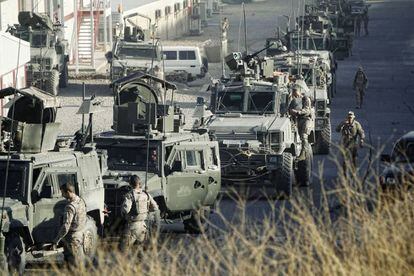 However, the Spanish Defense Ministry has several options on the table, including an extension to its mission in Turkey, where missile batteries are deployed against a potential attack from Syria.
According to The Washington Post, the US is planning to send 3,000 more troops to Afghanistan, which means the other allies would have to contribute 2,000 to bring the total up to 5,000.
For Spain, it would be relatively easy to expand its contingent of instructors in Kabul
The NATO-led Resolute Support Mission, which advises, assists and trains Afghan security forces and institutions, currently numbers 13,500 military personnel from 39 countries. The new figure would represent a 35% increase.
For now, the Spanish Foreign Ministry is not keen for Spain to revisit a mission that has already cost €3.7 billion and the lives of 99 troops and two interpreters.
In October 2015, Deputy Prime Minister Soraya Sáenz de Santamaría traveled to the Herat military base, east of Afghanistan, on a symbolic trip to lower the Spanish flag. After that, Spain's presence in the country was reduced to around 20 individuals, after a high of 1,500 troops.
For Spain, it would be relatively easy to expand its contingent of instructors in the capital, but it would be a lot more difficult to redeploy them elsewhere in the country, as this would require a separate protection force.
One of the options being considered by the Defense Ministry is refusing to send more troops to Afghanistan, but compensating by extending the presence of Patriot missile batteries in the Turkish locality of Adana, near the border with Syria.
Spain has contributed one missile battery and 140 military personnel to NATO's Operation Active Fence mission in a commitment dating back to January 2015, but which is scheduled to end in December. For now, no other ally has volunteered to replace the Spanish contingent there.
This would be simpler than sending troops to Afghanistan at a time when Spain's armed forces are already involved in around 15 operations.
A US request
M.G.
"We have a shortfall of a few thousand soldiers to complete our mission," said General John Nicholson, commander of the US and Allied troops in Afghanistan, at a February hearing before the Senate Armed Services Committee in Washington DC.
A few weeks later his superior, General Joseph Votel, commander of United States Central Command, told the same committee that the Pentagon was drawing up a "new strategy" to halt Taliban and ISIS, or so-called Islamic State, expansion in the region, and that this would require "additional forces" to make the mission to advise and assist the Afghan government more effective.
Although the White House has not officially approved these plans yet, Washington has addressed its allies, Spain included, to test their willingness to contribute troops to this reinforcement effort, government sources have confirmed.
English version by Susana Urra.