Movistar, Orange and Yoigo to scrap EU cellphone roaming fees on June 15
Spanish operators cut it close in complying with rules from Brussels on reducing charges
From June 15, all customers of Spain's leading cellphone company, Movistar, will be able to make and receive calls from anywhere in the European Union – along with Iceland, Norway and Lichtenstein – for the same cost as in Spain. The move will affect prepaid customers as well as those using cellphones as part of the "Fusión" fixed line, data and entertainment packages offered by its owner, Telefónica.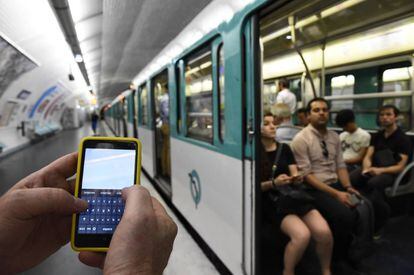 Thursday's announcement by the former state telecoms giant coincides with new roaming regulations set by the European Commission that, while not fully ending charges for using a cellphone within another EU member state, reduce them considerably. Telefónica has some 17 million domestic customers.
The end of roaming charges will dent the profits of Spain's telecoms operators
Spain's other major operators will also be obliged to apply the new rules. Vodafone anticipated the change in the law, and has already ended roaming charges for its cellphone customers both for calls and data, and not just within the EU but also in the United States, Iceland, Norway, Switzerland, Turkey, Albania and Lichtenstein. The British-owned operator completed its roaming policy last week by ending charges for pre-paying customers on its Vodafone Yu, Vodafone Internacional Voz, Vodafone Internacional Smartphone and Vodafone Fácil services.
Meanwhile, Orange has already eliminated roaming for its cellphone customers on some packages, among them Love and Go, but will wait until June 15 to end all roaming charges.
MásMóvil's Pepephone and Yoigo will also comply with the EU ruling on June 15.
After a decade of failed attempts and partial reductions of charges, roaming within the EU will end on June 15, although there will be conditions of use: companies will be able to impose charges on users deemed to be abusing the system through excessive use while abroad.
Wholesale rates will now be around 90% cheaper. The maximum charge for data will drop from the current rate of €50 per giga to €7.7. After that the cost falls in stages to a minimum of €2.5 per giga by 2022. For calls, the wholesale rate falls from €0.5 per minute to €0.032. For messages, the rate drops from €0.02 to €0.01.
The end of roaming charges will dent the profits of Spain's telecoms operators, in large part because of lost revenue from the millions of European tourists who come here each year, which explains why the country's operators put up the fiercest resistance to ending roaming.
English version by Nick Lyne.