How a Tarahumara woman won a Mexican ultramarathon in sandals
Without proper training or gear, María Lorena Ramírez ran more than seven hours to take first prize
Twenty-two-year-old María Lorena Ramírez is one of the best long-distance runners in the Rarámuri indigenous community and, on April 29, she beat 500 athletes from 12 different countries to come first in the 50-kilometer ultramarathon known locally as the UltraTrail Cerro Rojo, held in the state of Puebla, Mexico.
The image of Ramírez receiving her medal on the podium has been shared nearly 100,000 times on Facebook since May 13, since which time the news has spread across the world. It was first published on the Facebook page Que Todo Tehuacán Se Entere – dedicated to local news from Tehuacán, Puebla's second-biggest city.
The post drew attention to the fact that Ramírez won "without a hydration vest, special running shoes, Lycra or compression sleeves… Without any of the gadgets used by runners today. Without publishing her kilometers run on Nike or uploading her achievements on Facebook, out of sheer necessity she won."
The Facebook post announcing Ramirez's victory in the women's 50km #UltraTrailCerroRojo.
The winner, who like many Rarámuri comes from the Tarahumara mountains in Chihuahua, looks serious as she holds a piece of paper saying that she will receive 6,000 pesos for her achievement – slightly less than €300. Instead of sports clothes and running shoes, she is dressed in a skirt and a pair of sandals with soles made from recycled tire rubber. These are the shoes she ran in for seven hours and three minutes. They are the everyday footwear of many Tarahumara indigenous runners who are used to jogging between the gullies of the Chihuahua mountains. Last year, Ramírez came second in the 100km category of Chihuahua state's Caballo Blanco 2016 ultramarathon.
"She had no special gear," says Orlando Jiménez, the race organizer. "She doesn't have energy sweets or gel or the expensive shoes so many use for running in the mountains. All she has is a small bottle of water, a hat and a scarf that she wears around her neck."
Mexico's best runners
Long-distance running is in the blood in the Ramírez family. Her older brother Mario was among the competitors in Puebla, coming 10th in the 30-kilometer category. Meanwhile, three of Lorena's seven siblings as well as her father, Santiago, ran with her in the Chihuahua ultramarathon.
Speaking to El Universal daily, Santiago explained he had been running since he was a child, just as his father and grandfather had done before him. They were, he explained, motivated by "not losing" and "not going hungry."
To reach the race in Puebla, Lorena and her brother made a two-day overland trip from their community in Ciénega de Norogachi in the municipality of Guachochi, to the State of Mexico. They were then picked up by the runner, Leonel Aparicio and traveled another five hours by car to Pueblo Mágico. The following day, Loretta ran 50 kilometers to become champion.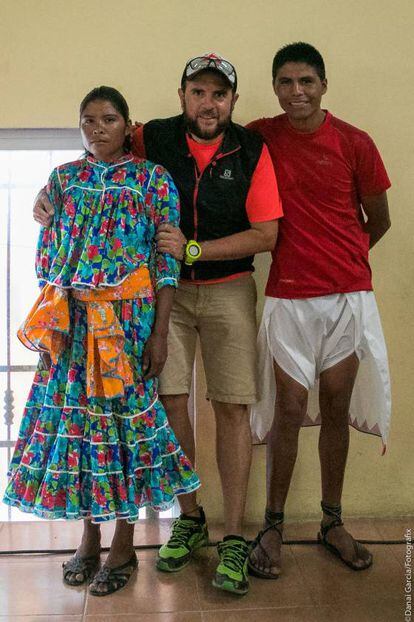 EL PAÍS tried to contact Lorena on her brother's cellphone but without success as the signal is poor in the Chihuahua mountains. But Aparicio told us: "At home, Lorena looks after the stock. She has cows and goats and walks between 10 and 15 kilometers a day with the animals." To keep hydrated, the Tarahumara runners eat pinole, a corn paste, which is also part of their daily diet.
"They are naturally the best runners in Mexico," says Jiménez. In fact, the clue is in their name, Rarámuri. Rara means feet and muri means to run. The Rarámuri are a people of "light feet" or "running feet" and their history and running techniques became famous after Christopher McDougall wrote about them in his book Born to Run.
English version by Heather Galloway.