CRISIS IN VENEZUELA
Protests continue in Venezuela despite fears of "slide into anarchy"
After a month of marches and a death toll of 29, opposition says it will maintain pressure on government
Opposition protests in Venezuela against President Nicolás Maduro's plans to rewrite the country's Constitution continued throughout Tuesday and into the night. There were no reports of deaths, although several people were injured and property damaged.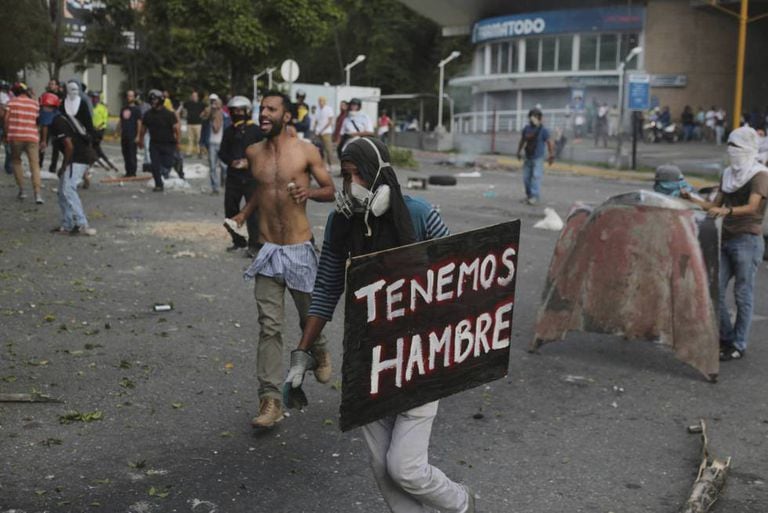 Venezuela has been rocked by a month of protest marches, mostly in the capital, Caracas, that have left at least 29 people dead since the government-controlled Supreme Court briefly stripped the opposition-controlled National Assembly of its powers at the end of March.
On Monday, Maduro announced the creation of a new assembly that would further sideline Venezuela's opposition-controlled National Assembly. The Constitution would be rewritten by some 500 delegates, half of whom would be from the so-called National Communal Parliament, set up by the Maduro administration after it lost control of the National Assembly in late 2015.
Tuesday's disturbances began in two suburbs in the east of the capital, La Urbina and El Llanito. Local mayor Carlos Ocariz reported that a number of armed civilians fired on residents and looted cars. Twelve people, among them a public employee, a municipal police officer and three members of the security forces, were injured. The mayor blamed armed groups for torching three apartments.
"The protest is valid, but we cannot slide into anarchy. We will follow MUD's line," said Ocariz at a press conference.
During the recent protests, groups of armed pro-government civilians, known as colectivos, have been operating with impunity in recent weeks, intimidating and shooting protesters.
In La Urbina, unidentified armed men smashed a hole in the wall of an office building and damaged vehicles. Residents had joined the protests called by the MUD opposition grouping to block main roads. In other areas of Caracas there were disturbances until late into the night.
A human rights NGO called Foro Penal Venezolano reported that five people were arrested in La Boyera, to the south of Caracas, during anti-government demonstrations.
In Barquismeto, in the central western state of Lara, opponents of the government seized two fuel trucks in the center of the city. The province's governor, Henry Falcón, tweeted that he was unable to negotiate with the protesters, who had demanded the release of 141 colleagues in return for handing over the vehicles. "The State Attorney, the Ombudsman, and the Judiciary have the answers to the demonstrators' requests," he said.
The protests of the last three weeks against the government of President Nicolás Maduro have proved more violent than previous demonstrations. Between February and June 2014, there were 43 deaths, while over the last 24 days, 23 people have been killed.
Maduro has rejected opposition demands for new general elections or a recall referendum.
Maduro blamed the president of the National Assembly, Julio Borges, for the damage to property during Tuesday's protests.
The opposition says it intends to stage new protests on Wednesday.
English version by Nick Lyne.