health
Spain's 64-year-old mom forced to hand twins over to social services
Mauricia Ibáñez judged unable to look after two-month old children "in the short term"
Spanish social services have taken the twins born to a 64-year-old woman in February into care, citing "indications of vulnerability" and concluding that the pair are "in a deprived situation." Mauricia Ibáñez, from the northern region of Burgos, has already seen her first child, which she had at the age of 58, taken from her by the regional government of Castilla y León in 2014.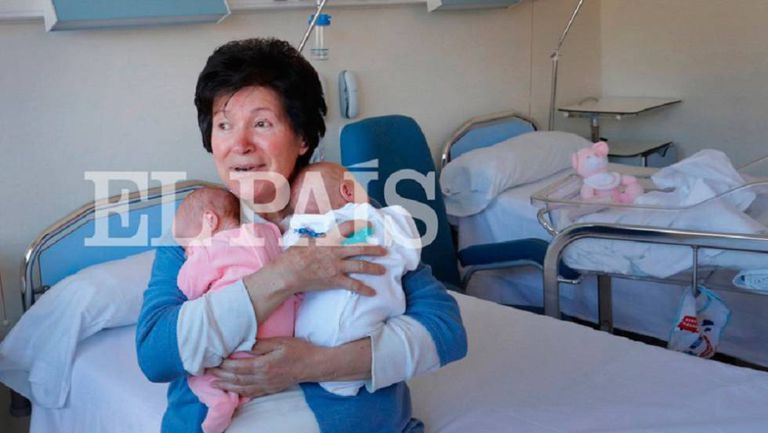 On March 26, after spending more than a month in hospital following the birth of her twins, who were conceived following fertility treatment at a US clinic, Ibáñez signed an agreement with social services that she would arrange for an assistant to provide 24-hour care.
"All the reports we carried out concluded that she would need help with cleaning and looking after the children," said a statement by the regional government. But just 10 days after she returned home, on April 6, the authorities decided the twins were "at risk."
Ibáñez made headlines around the world after the birth of her twins on February 14, as well as sparking widespread debate in Spain, with opinion divided over the scientific achievement in allowing a woman in her sixties to be a mother, and those who argue allowing her to do so is irresponsible, particularly in light of her daughter having been taken into care on the grounds she was not being properly looked after.
"Since she went home, a multi-disciplinary team has been following Ibáñez's progress, and their reports all conclude that the twins need looking after in a different environment," said a spokesman from social services in Burgos, adding that reuniting Ibáñez with her children, Gabriel and María de la Cruz, was not being ruled out at some point in the future. "But the obligation in the short term is for them to be with foster parents," he added.
"She is very distraught and traumatized," said Ibáñez's lawyer, Juan Carlos Sáiz, after police accompanied social workers on Thursday to her home to take the twins into care. He added: "She told me that if the first time was painful, this time it has been much worse."
Ibáñez, who lives in the tiny community of Palacios de la Sierra, some 70 kilometers from Burgos, had moved into an apartment in the city so as to be better able to look after her children.
Ibáñez made headlines  after the birth of her twins, sparking debate in Spain
Speaking exclusively to EL PAÍS from hospital in February, following the birth of the two children, who were delivered through Cesarean section, Ibáñez said: "I decided to become a mother because the experience of having Blanca, my first child, was fantastic: I asked myself if I could really have another. I'm not worried at all about my age. I am old, but it has been possible for me to get pregnant: science and medicine are the last opportunity we older people have."
A former civil servant, Ibáñez decided to start a family a decade ago after she had been given early retirement over mental-health issues.
Her sister tried to get the courts to declare her "fully incapable" so that her passport could be withdrawn, preventing her from traveling abroad to undergo fertility treatment, but a judge refused after psychologists testified that her condition did not prevent her from "looking after herself or a child."
Asked by EL PAÍS in February whether she was concerned about whether she would be able to hold on to her children, she replied: "Of course I am worried that they could take my children away. They are so defenseless, so small and delicate. I am a little bit afraid for them. I just ask God to prevent them falling into the hands of the social services."
English version by Nick Lyne.