OPINION
Text in which the author defends ideas and reaches conclusions based on his / her interpretation of facts and data
Trump's exiles
We need to fight deportations that violate the rights of Mexicans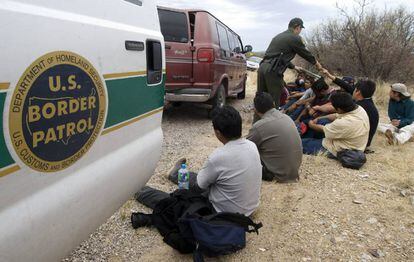 The recent memorandums on homeland security and border affairs released by the US government are a cause for concern. Although we don't know yet how they will be applied, or what the level of commitment or opposition will be in each state of the Union, we should be on our guard – especially on the issue of expedited removals, which violate due process, bypassing immigration courts and giving executing officers the powers of judge and jury. The possibility that other nationalities may be within the range of deportations to Mexico is also worrying and inadmissible. Equally, demands made on local authorities to persecute immigrants are generating a constitutional controversy and causing trouble for these agencies, while eroding trust in the police, which in turn poses a risk to the safety of the communities.
Deportation is nothing new. Obama sent back between three million (according to Homeland Security) and 3.8 million people (according to the National Migration Institute of Mexico). What's new is the tone, the visibility and the threatening, xenophobic speeches being delivered by Trump. Although the number of deportees has not changed, a few individual cases such as those of Guadalupe Ortiz, Daniel Medina and Jeanette Vizguerra are causing panic.
The resistance will have to play out chiefly within the US judiciary, where is possible to progress more, or to regress less
Deportation is a country's official sanction against an individual. It entails sending the detainee back to his or her country of origin, and preventing them from returning for a specific period of time for having violated immigration laws. Although undocumented Mexicans may turn to Mexico's 50 consulates in the US for help, they are afraid to do so. Besides, they are often ignorant of the steps to take in the event of arrest, or of the consequences of choosing a voluntary way out of the US. They do not know their rights. That is why it is essential to enlist civil society and the media in an effort to disseminate information about their rights and available alternatives.
There are several motives for deportation. There are people who have committed serious crimes and who are in prison, but others are removed for using fake ID, for driving under the influence and for other administrative offenses. Out of 500,000 people who were deported in the last two years, only 27,000 had committed a serious crime. Despite the enormous increase in deportations beginning in 2007, and an alleged drop in Mexican migrant flows, the total Mexican population —with or without papers— reached a historic high in 2016: nearly 13 million people. This should relativize the theory of zero net migration.
The main thing for Mexico to do is to take the battle to the courts. The Mexican government, the private sector and anyone wishing to contribute to the Mexican community's desire to remain in the US should provide legal advice and even pay bail money if necessary. Each case must be analyzed in the light of possible migratory assets that can be used in the defense: granting citizenship to those who meet requirements, giving US-born children Mexican citizenship as well, and for those whose lawyers suggest there is not much to be done, a repatriation plan that includes their families and personal assets.
Deportation is nothing new. Obama sent back between three million and 3.8 million people
For those who return after all, it is necessary to implement comprehensive policies that will allow them to rejoin Mexican society. They will need psychological assistance to deal with the change and a possible family breakup, they will need help getting educational degrees recognized and skills certified, and they will require a platform that links up job supply with demand. And adequate transition programs for children needing to learn the Spanish language will be required to prevent all-too-frequent episodes of bullying at school.
An integral, firm negotiation will be required. While deportations of Central Americans has decreased in recent years, deportations to Mexico have increased since 2014. Unaccompanied minors from Central America have posed serious challenges for Mexico and for bilateral cooperation on security issues. However, there are resources, counterweights and options available to Mexico and its people in the US. The courts, the saturation of the immigration system, the Central American flows, allies in the US, the media, the 50 Mexican consulates – these are all fundamental elements of the resistance – a resistance that will have to play out chiefly within the US judiciary, where is possible to progress more, or to regress less.
Jorge G. Castañeda, a former Mexican foreign affairs secretary, teaches Political Science and Latin American and Caribbean Studies at New York University. Eunice Rendón was director of Instituto de Mexicanos en el Exterior (Institute for Mexicans Abroad).
English version by Susana Urra.