Point-blank shooting: Outrage in Argentina over murder of two teenage girls
Police arrest ex-boyfriend of one of victims as country fights to stop violence against women
A man has been arrested for murder after an attack on the outskirts of Buenos Aires early on Saturday that left two teenage girls dead and another two in serious condition. Police detained Luis Esteban Weiman, a 36-year-old security guard, several hours after the assault, in which the four girls were shot from behind and at close range after leaving a nightclub in the Florencio Varela neighborhood of the Argentinean capital.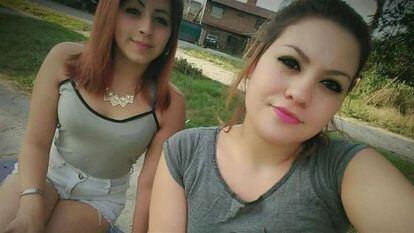 Weiman is thought to have been the boyfriend of 17-year-old Denise Daiana Juárez, one of the teens shot dead, until three months ago. The girl was killed after being hit by nine bullets while her best friend Sabrina Barrientos died after receiving six bullet wounds.
Two of their friends, both also aged under 18, remain in a serious condition as a result of the brutal attack.
According to a police report on the double murder, Weiman carried a weapon when working. Arresting agents also found 9mm cartridges, the same caliber as those used in the shooting.
We came out and saw the girls spread out on the ground. One of them had a bullet wound in her throat. It was horrible Witness to the attack
Witnesses said the four friends had looked at taking a private car to a distant suburb just minutes before the incident but had decided it was too expensive and had opted to walk to a bus stop.
"Moments later we heard a hail of bullets. We came out and saw [the girls] spread out on the ground. One of them was screaming but had a bullet wound in her throat. It was horrible," said one of the employees at the taxi office.
Gender violence continues to be a serious problem in Argentina, where one woman is killed every 30 hours, according to figures from the non-profit organization La Casa del Encuentro.
Argentina's Supreme Court recorded 235 murders of women in 2015 with 18% of victims younger than 20 years of age, while 43% were aged from 21 to 40, and 25% were from aged from 41 to 60. Furthermore, two out of every 10 women murdered in Argentina that year had reported their killer to the police, highlighting the need to protect women trapped in violent relationships.
Over the last two years, women's organizations in Argentina have held huge nationwide marches to protest gender-based violence under the slogan, Ni una menos (Not one less). And in a case that made headlines around the world, women's groups in Argentina called for a one-hour general strike in October 2016 to protest the brutal rape and murder of 16-year-old Lucía Pérez.
The teen was reportedly picked up outside her school in the coastal city of Mar del Plata, some 300 kilometers south of the capital of Buenos Aires. She was then drugged, gang raped, and allegedly penetrated with a wooden pole. Her killers then washed her, changed her clothes and took her to a medical center, alleging she had suffered an overdose. She died in hospital.
English version by George Mills.