Disabled people stage Madrid protest against Ryanair "discrimination"
Demonstrators claim low-cost carrier forces those with disabilities pay extra for travel companions
More than 250 disabled people protested against Ryanair at Adolfo Suárez-Madrid Barajas Airport on Saturday afternoon. They accused the Irish airline of "systematically and permanently" discriminating against disabled travelers by adding unnecessary obstacles to their flights.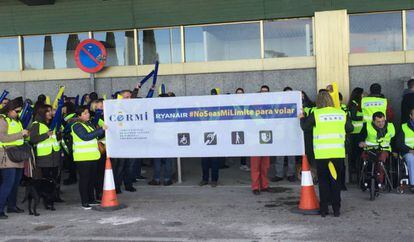 The Spanish Committee of Representatives of Disabled People (CERMI) organized the protest after receiving numerous complaints against the low-cost airline for "multiple cases" of discrimination.
The airline conjures up hare-brained security reasons and excludes disabled passengers directly Luis Cayo Pérez Bueno, President of CERMI
"The airline conjures up hare-brained security reasons and, without any kind of social commitment, excludes disabled passengers directly, either by not allowing them to board, or by obliging them to bring a travel companion at their own expense," said Luis Cayo Pérez Bueno, President of CERMI. "It uses an abusive and discriminatory European rule to tell us, as passengers, that we aren't welcome."
The latest story to make news was that of Javier García Pajares, a deaf and blind Spanish student who was studying abroad in London. According to his testimony, Ryanair did not allow him to travel last Christmas, citing security reasons.
"The case of our friend Javier García Pajares is proof of something devastating that it wants us to accept as natural. It is the moment to tell them that low-cost cannot be translated into fewer human rights," said Cayo Pérez.
CERMI also said that the European Commission should urgently change a rule related to passengers with reduced mobility that has been in effect throughout Europe since 2006.
"This rule allows companies that don't have any social conscience to apply it in its worst version," said Cayo Pérez.
Ryanair's response
Ryanair denied practicing any type of discrimination.
"Thousands of passengers who need special assistance choose to fly with us every week, a service that usually takes place with normality," a Ryanair spokesperson told the Servimedia news agency.
The company also refuted the story of García Pajares. The spokesperson said that a customer-service representative asked the disabled passenger for documentation to make sure he complied with the security requisites that allowed him to travel without a companion.
"Once those documents were received, more than a week later, we confirmed that he could travel alone, although in the end he decided not to," said the spokesperson.
"We are proud of the service we offer to all of our clients and we will continue to make an effort to improve our service every day," he added.
English version by Alyssa McMurtry.