Road to nowhere: Mexico City struggles with traffic woes
Experts warn bigger and better public transport only way ahead for city in love with the automobile
Thirty-four days and nights: that's how long people traveling to downtown Mexico City from the western municipality of Nezahualcoyótl spend trapped in their cars every year, according to mobility solutions firm Sin Tráfico. It's a similar story of pain for people who live closer to the center with travel times three times longer during peak hour, the company says.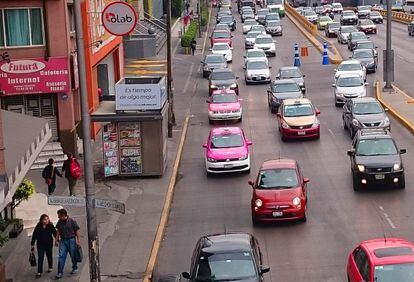 Last year, Mexico's capital was ranked the most-congested city in the world by traffic data analysts TomTom, and the result of this mobility crisis is lower quality of life, productivity losses, high levels of pollution and plenty of driver frustration.
Then there is the lack of public transport in a city of six million cars, according to official figures – a number that has doubled in the last 10 years.
"The traffic isn't the result of speed controls or sidewalks or fewer lanes because of public transport," says Roberto Remes who heads up the Public Space Authority in Mexico City. "The reality is there are more and more cars."
The traffic isn't the result of speed controls or sidewalks: there are just more cars Roberto Remes, Director of Mexico City Public Space Authority
Adding to the problem is the city's disproportionate urban sprawl, says Bernardo Baranda, Director of Latin America for The Institute for Transportation and Development Policy. While most people work in the area bounded by the key Reforma and Insurgentes avenues, which crisscross the city from east to west and north to south, respectively, they live much further out.
"This is the great tragedy; people who live a long way from work don't have access to quality public transport," adds Baranda.
Residents on the outskirts use a car if they can afford it. If not, they are forced to spend up to 40% of their wages on getting to work, according to a study by María Eugenia Negrete with The College of Mexico. Driving has become a question of mental health and a way to improve quality of life.
"You can't ask people to leave their cars at home if there is no decent public transport," says Jesús Padilla, President of the Mexican Association for Transport and Mobility. "Almost every time a child is born, Mexico City gets a new car and that is unsustainable."
Meanwhile, policies designed to eliminate and reduce property rental or promote the construction of second homes, and – until recently – subsidies on gas prices, have also led to an increase in the use of cars in Mexico City.
The great tragedy is people who live a long way from work don't have access to quality public transport Mobility expert, Bernardo Baranda
Specialists say the only way forward is a bigger and better public transport network, although they recognize this is a tough sell. "When public policies favor cars, there is no problem, but when you try and support pedestrians, there are more obstacles," says Remes.
Under the so-called "Rey Peatón" (The Pedestrian is King) program, Mexico City is aiming to add 10 kilometers to its underground railway network every year, at a cost of €1 billion. Remes says the project will only go ahead if ticket prices are raised or new taxes imposed, but adds other cheaper options such as the metrobús bus network are both also necessary and viable.
"Eighty percent of public investment is destined for 20% of motor vehicles, while 70% of people are using public transport. We have to turn this pyramid on its head because we are on the wrong road to nowhere," warns Padilla.
English version by George Mills.