LATIN AMERICA
Police investigate disappearance of Greek ambassador in Rio
Authorities analyzing corpse found inside what is believed to be missing diplomat's rental car
Brazilian police investigating the disappearance of the Greek ambassador to Brazil, Kyriakos Amiridis, suspect a charred body found inside a rental car could be that of the ambassador. Amiridis, 59, was spending his Christmas holidays in Rio de Janeiro but has not been seen since Monday night, when he was last spotted driving his rented Ford Ka in the suburb of Nova Iguaçu. His Brazilian wife informed the police of his disappearance two days later.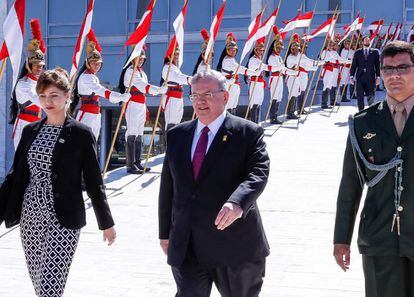 A forensic team is now analyzing whether the burnt corpse they found in a vehicle with the same license plate and characteristics as the car the ambassador rented belongs to Amiridis. Police say they are likely to be able to provide more information on Friday.
Armiridis has lived in Brasilia since he was named ambassador in January of this year. He traveled to Rio on December 21 with the intention of returning on January 9, an employee at the Brazilian Greek embassy told news agency AFP.
Nova Iguaçu, a city connected to Rio, is not a traditional destination for tourists
Before becoming the Greek ambassador to Brazil, Amiridis held the same post in Libya. Prior to that, he was the Greek Consul General in Rio from 2001 to 2004.
Nova Iguaçu, a city connected to Rio, where Amiridis's wife has a family home and where the car was found, is not a traditional destination for tourists. It has a population of around 800,000 and is one of the 13 cities that make up the Baixada Fluminens, a violent territory where paramilitary groups and drug dealers operate with certain impunity.
Between January and November of this year, Baixada Fluminens, with a total of 3.7 million residents, accounted for 40% of murders in the state of Rio de Janeiro, which has a total population of 16.6 million people. During the same period the region saw 1,919 homicides, according to the Institute for Public Security in Rio.
English version: Alyssa McMurtry.