Editorial
Editorials
These are the responsibility of the editor and convey the newspaper's view on current affairs-both domestic and international
Madrid's pollution problem
City needs long-term plans to fight smog, not just driving restrictions based on license plates
Madrid City Hall, which is run by leftist bloc Ahora Madrid, has taken the historic decision today to prohibit the entry of vehicles in the center of the capital with license plates ending in an even number, given the high levels of nitrogen dioxide currently in the air, and the dense layer of atmospheric pollutants hovering over the city.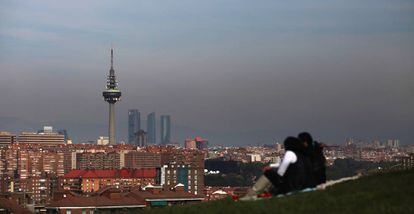 The decision to implement phase 3 of the council's environmental protocol – which means that the two first phases, speed limits on access routes into the capital and a ban on parking in regulated spaces for non-residents, will also remain in place – can only be qualified as a sensible response to what has been confirmed as one of the most serious problems facing large contemporary urban areas. Atmospheric pollution is a serious and imminent danger for health, and will not be brought under control unless urgent measures are taken, such as the aforementioned, and others that are longer term and just as forceful.
There are very few arguments, perhaps none at all, to reject the convenience of restricting traffic in the current circumstances. The first duty of a local council is to guarantee the health of citizens, and it is evident that the high level of pollutants in the air, caused by vehicle emissions and central heating units, is having an adverse effect on the general health of Madrileños. Nor is it an exaggerated or extreme measure: a number of European cities have put similar plans into place, because they understand that this is the best way to bring down pollution. Irresponsible behavior is doing the opposite, i.e. those local administrations that for years have refused to take any kind of drastic and efficient decisions, no matter how unpopular.
It is worth remembering that we are dealing with a situation of environmental emergency
The arguments of municipal parties that reject traffic limitations appear irrelevant and lack credibility. Arguing that selectively closing the center of Madrid is an "ideological decision," as the conservative Popular Party (PP) has stated, invites the question as to which measures this group would suggest in order to bring down pollution; or if the PP believes that the freedom to use cars is more important than the health of Madrileños. The call for consensus over which restrictive measures should be taken appears reasonable, but it is worth remembering that we are dealing with a situation of environmental emergency. It's not that different, in fact, from that suffered by other large cities, which have also opted for similar – or even more rigorous – measures.
Madrid City Hall must take into account that while this response has been the correct one, that dirty air in cities tends to become a chronic problem that is not only dealt with via sporadic or discretionary measures. The most efficient way of ending the problem of pollution is to approve medium- and long-term plans to improve public transport, to modernize vehicles used in the city (lower emissions, for example), to limit the number of private cars in the city at all times (London and Rome are the best examples), and to reduce the timetable for deliveries to stores, business and other establishments. This plan should and must be agreed with all the parties involved.
English version by Simon Hunter.