State of shock: Hopeful Cubans face uncertain future after Fidel Castro
Economy is greatest challenge as country struggles to adapt to end of a political era
With the weight of history on his shoulders, Cuban President Raúl Castro on Sunday placed the ashes of his brother Fidel in the sober granite mausoleum built to house his remains in a cemetery in Santiago de Cuba. The act brought to a close nine days of mourning and seven of official funeral celebrations. Fidel Castro is dead and Cuba is looking to the future with hope in the face of complex challenges.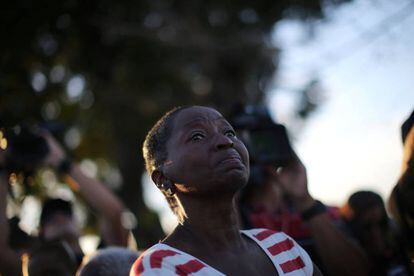 President Castro, now aged 85, must complete a process of reform that cannot be put off – one that began when he took over from his brother in 2006. He will have to pass on the baton to a new generation of leaders given that he has promised to leave office by 2018, although he will remain head of the Communist Party until 2021.
"Cuba post-Fidel isn't starting now. It started 10 years ago," says political scientist Rafael Hernández from Havana, affirming that the transition of power is underway "although it can't be seen from outside."
Vice President Miguel Díaz-Canel, aged 56 and a discreet party man, seems best placed to succeed Castro. Behind the scenes, after leaving his position as economy minister several months ago, 55-year-old Marino Murillo is drawing up economic plans that the Cuban leadership hope will be key in ensuring changes without change: more development but with the party firmly in the driver's seat.
In future years Cuba will need to hit sustained 4% growth Esteban Morales, Universtiy of Havana
"When you look at the historic generation [of the Cuban Revolution] only three still have power: Castro, Ramiro Valdés (aged 84) and José Ramón Machado Ventura (86). A new generation is coming up with new ideas that it will slowly introduce," predicts journalist Reinaldo Escobar with the newspaper 14 y medio, which has been critical of the government and has come in for official censorship. Escobar was arrested this week and then freed a matter of hours later. With a more connected society – despite limited internet access – the first signs of a non-official press, and the persistent activity of political opponents to the regime, one of the challenges faced by Cuba in future will be how to loosen its iron grip on civil society.
A democratic opening is off the table at the moment and for the average Cuban on the street, the idea remains taboo. On Sunday night in Santiago, during the final, mass event paying homage to Fidel Castro, two students discussed the country's future.
"A multi-party system or continuity?"
"I can give you an idealistic answer or a philosophical one. But beyond the question of whether we have one type of system or another, the most important thing is that the stability of the country is maintained," replies 19-year-old Alexander Vega.
"I would like to vote for the same party that we have now, but between different candidates," says 20-year-old Edel Martínez.
The death of Fidel could accelerate economic changes that no one carried out while he was alive out of respect for him.
Forecasts point to 2% GDP growth in 2016 after 4% a year earlier. "In future years we will need to hit sustained 4% growth to ensure the country can overcome a whole range of difficulties," says Esteban Morales, an economist with Havana University and an expert on Cuba–US relations.
"But the embargo is still in place and I don't know if Trump will eliminate it," she adds.
After the political thaw between the two countries, which has seen a normalization of diplomatic relations, an ease on travel restrictions between the two countries and direct flights between the two countries reinstated, the future arrival of Trump in the White House has heightened tensions. Havana is now unsure about the future of bilateral relations between the two countries – a relationship which is crucial to the island now that Venezuela is in economic meltdown.
Tourism, foreign investment and small business – the existence of SMEs is expected to be formally recognized in Cuba in the near future – will all be key as Raúl Castro attempts to ride out any future possible storms with Washington that delay US economic involvement in the island.
Cuba post-Fidel isn't starting now. It started 10 years ago
Political scientist Rafael Hernández
Cuban agriculture also needs an overhaul after the failure of socialist planning. "The problem of fishing and agricultural production is vital," Morales says. "We haven't even managed to industrialize the production of a single product to the level where we can supply the population, although people aren't going hungry."
Cuba, which is very fertile, imports at least 40% of its food requirements, according to the economist.
A new era has begun in Cuba and people in the country are visibly excited.
"What will become of us now that Fidel is gone? Cubans of my generation have been educated under a paternalistic system that is nothing like the jungle to which we have now escaped," wrote 45-year-old writer Wendy Guerra in a recent article in The New York Times.
"We are totally unprepared. The Russian fantasy lasted too long. I am a person untrained for the speed of the real world," she said.
The impression across Cuba during the days following Fidel's death has been one of silent astonishment.
English version by George Mills.