A political speech
Spanish king opens the new parliamentary term by stressing regeneration and dialogue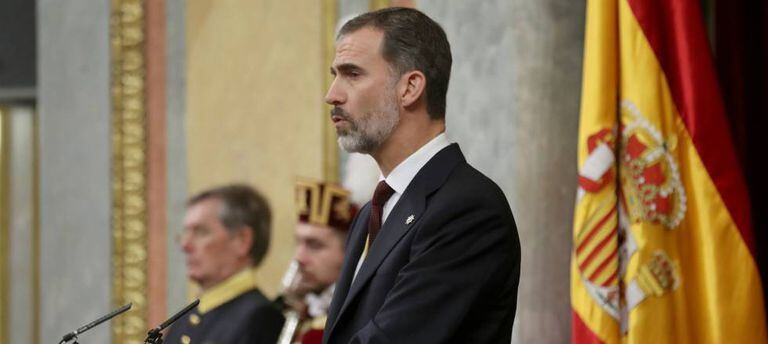 Just as he did at his proclamation speech nearly 30 months ago, the monarch reasserted his commitment to Spanish citizens, to democracy and to Spain. All three messages were meant as a symbol of his own reign, as they entail the defense of the general interest: the principle of national sovereignty; the separation of powers and the rule of law; and the concept of unity within diversity.
Felipe VI is aware of the challenges and difficulties facing Spain from the political, economic and social points of view. He also knows that Spaniards are living through times of profound change, and that the survival of the monarchy will depend on his own ability to adapt to the new social reality and to demonstrate his usefulness as a head of state, within the limits set out for him by the Constitution.
That is why it is worth underscoring that the messages he chose to deliver were about strengthening the welfare state in order to promote social cohesiveness, about regenerating democratic life (for the first time he spoke openly about corruption), respecting the law in a diverse Spain, and boosting international presence, with a special focus on the EU and the Ibero-American community.
At a time when certain sectors are questioning the democratic transition in Spain, Don Felipe praised the road that the nation began walking down nearly 40 years ago: "The road of reconciliation, of peace and forgiveness, of the disappearance of hate, violence and imposition, once and for all."
His words fell on grateful ears in these times when messages of hate and fear have made a comeback in the Spanish and international political arenas.
For nearly a year, the king has had to deal with the uncertainty stemming from a governing crisis that forced Spaniards to vote twice in the space of barely six months. Questions were raised as to whether he might have played a bigger or a better role in the process, as an arbiter and moderator of political life. But the Crown has remained calm throughout, working to meet its constitutional commitments in a neutral and independent way.
On Thursday, Felipe VI recalled the complex situation that Spain has been through, which spawned "worry and unease in society, citizen disillusionment and estrangement from our political life, and concern among our partners and allies."
It is a positive thing that the king directed politicians' attention to the problems born out of their lack of readiness to negotiate. And it was also good to recall that the crisis of government was ended through dialogue, a sense of responsibility, and generosity. The time has come for a permanent dialogue that will let our country move forward in carrying out necessary reforms.
English version by Susana Urra.