HEALTH
The vital spark keeping baby Aarón alive
A Madrid couple are campaigning for help to pay bills and guarantee electricity supplies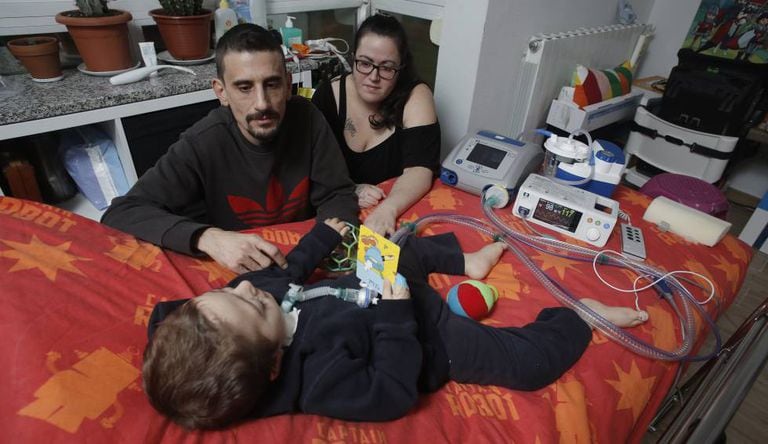 David Cobisa and his partner Verónica's nightmare began on July 3, 2014, when, six months into her pregnancy, Verónica began to suffer sharp pains. The couple decided to go to the Hospital Infanta Leonor in Madrid, where Verónica underwent a series of tests. After more than eight hours, they were given the all-clear and sent home. The next morning, however, they were called back to the hospital, where it was discovered her baby had spent 15 hours without oxygen. Birth was induced.
As a consequence of what they say is negligence, David and Verónica's child Aarón has been hooked up to a life support machine since. He is dependent on a stable, permanent supply of electricity.
The couple are also fighting a medical negligence case over Aarón's condition
"The four machines that help Aarón breathe have to be constantly connected to the grid. These machines have batteries that initially last five hours but over time last no more than one. We are always worried about power cuts," says David.
The couple's life has been turned upside down. Verónica has had to take leave of absence from her job to look after her son. When David returns from work in the evening, they work on rehabilitation exercises. "Every time we leave the house with our son, we need an ambulance," David explains.
But despite being categorized as high-dependence, they have still not received any financial assistance, prompting them to launch an appeal on the petition website, Change.org for a discount and a guaranteed power supply for themselves and others in their situation. So far, the appeal has attracted 190,000 signatures. "A similar appeal in Argentina pushed the government into providing discounts for these kind of parents says David who, along with Verónica, pays €240 a month for electricity, compared with €80 before Aarón's birth.
David and Verónica are also looking at cases similar to their own with a view to setting up an association to protect their rights while waiting for the courts to rule on the alleged medical negligence at the time of Aarón's birth.
The response from suppliers and those the couple are lobbying has been mixed. Gas Natural Fenosa, the utility that supplies their electricity, has included the family in its Help with Life system, which gives them priority. "In the case of a power cut, the company makes sure they are first on the list to have their electricity reconnected. It also comes into play when the supply could be interrupted due to repairs – in this case, they are told when and for how long it will be cut," explains a Fenosa spokesperson.
Every time we leave the house with our son, we need an ambulance David Cobisa
While agreeing with David and Verónica and members of their association that a discount should be introduced for electro-dependent families, the company has also made sure they have a plan appropriate to their needs.
On the other hand, the Spanish Electricity Industry Association (UNESA) is reluctant to evaluate individual cases, while the Ministry of Industry has refused to comment and the Ministry of Health maintains that these kinds of decisions are in the hands of Madrid's regional government. The regional government, in turn, explains that Aarón's case was assessed a year ago, in November 2015.
"Initially, the family did not present all the documentation needed for the financial relief offered by the System for the Autonomy and Care of Dependent Persons – there was data missing about their family economy," says a spokesperson for Madrid's Social Policies Department "Once that information was presented last August 29, a decision was made to award them Financial Benefit for Care in the Family Setting (PECEF)." This financial support is still to materialize.
Meanwhile, Madrid City Hall says that although none of the couple's appeals are in their domain, they have asked local social services to look into them in case there is any specific support that can be offered.
The couple say other countries have done more to help people in their position: Argentina has a social electricity plan, while New Zealand has made sure patients like Aarón have a power supply whether or not the electricity bill is paid, by making it illegal to cut them off.
In response to the publication of the original article in EL PAÍS last week, Madrid City Hall contacted David and Verónica, as did the regional government. Gas Natural Fenosa has also offered to provide them with cheaper electricity.
English version by Heather Mills.