Popular Party preparing for a minority government in a hostile Congress
But Socialists warn nothing should be taken for granted before its Federal Committee meeting
With the deadline for possible new elections looming dangerously close, acting Prime Minister Mariano Rajoy is expecting the opposition Socialists to finally let him form a minority government in Spain.
While the management team temporarily leading the Socialist Party (PSOE) will not say so openly, its Federal Committee will likely meet on October 23 and vote in favor of an abstention at an upcoming investiture session in Congress.
The PP is seeking ways to take the sting out of any future investigative committees
A Socialist abstention at the investiture would let Rajoy return to La Moncloa in an official capacity, after 10 months of a political stalemate that has prevented the caretaker government from getting essential legislation passed in Congress.
While the idea of helping Rajoy has fractured the PSOE, whose secretary general Pedro Sánchez recently resigned over the issue, supporters argue being in opposition will allow the Socialists to change laws they consider harmful to citizens.
This is because a Rajoy administration will only have support from its own 137 Popular Party (PP) deputies inside the 350-seat Congress, making it the smallest governing group in Spanish democratic history.
For their part, the 85 Socialist deputies could ally themselves with other opposition groups to keep the government in check, while forcing the PP to accept opposition proposals. Refusal to do so could lead to a vote of no confidence and a snap election.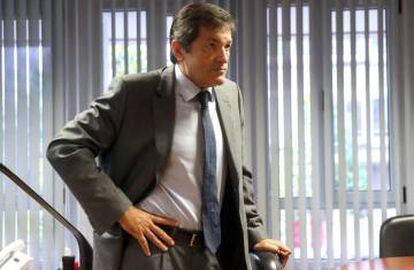 If the PSOE's Federal Committee refuses to let Rajoy lead the nation, Spain will automatically see new elections in December. The October 23 meeting is expected to be highly charged as Socialists debate whether to take an unprecedented step to save Spaniards from a record third election.
"It's either new elections or a political agenda that cleans up what the PP has done," said Mario Jiménez, spokesman for the PSOE interim management team.
"An abstention should not be taken for granted," added Patxi López, a former speaker of Congress.
Taken for granted
Yet the PP are already assuming that Rajoy will return to office, and are working to assess how their minority government will work around what is likely to be a mood of unremitting hostility in Congress.
Although the reform party Ciudadanos and the small Canaries Coalition have already pledged support for Rajoy's investiture, they refuse to enter into a stable coalition with the PP, meaning that Rajoy will have to seek case-by-case backing for each legislative proposal.
In this new scenario of government weakness, the conservatives are already examining potential loopholes and looking at how to make an absolute Senate majority work in their favor as much as possible. They are also keen to find ways to take the sting out of any future investigative committees set up to probe the executive's actions. The PP, for instance, claims that it is not possible to investigate the sprawling anti-corruption Gürtel case while the trial is still underway.
The new government's first priority will be to get the 2017 budget and spending ceiling passed.
English version by Susana Urra.