Chinese investors increasingly eyeing Spanish property market
Middle classes attracted not just by bricks and mortar, but quality of life in Spain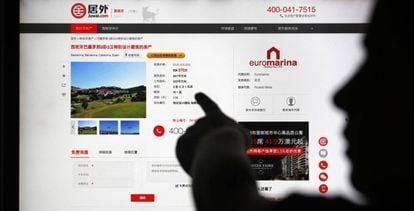 The relatively low prices of Spain's still-recovering housing market are proving increasingly attractive to China's burgeoning middle classes, with the country now the seventh-most popular choice for private investors, according to Chinese property website juwai.com.
"Spain's appeal is growing rapidly among Chinese investors due to the good investment opportunities there," says Jan Kot of Juwai. He says the most popular areas are Barcelona, Madrid, Alicante, Valencia, and Marbella.
Hu Ning, a Chinese businessman, has just bought a property in Barcelona, where his wife has found work. He intends to move to Spain later this year when he has finalized his paperwork. His daughter starts at one of the city's international schools in September.
On Juwai alone there are some 15,000 properties for sales in Spain, most of them homes, but also hotels, office blocks, and even wineries
He says he looked at Canada, the United States and the United Kingdom before deciding on Spain, in large part because of the lower prices here. "The most important thing for me was return on investment. Prices are low in Spain, but starting to pick up. This will be a safe investment: I might need seven or eight years, but after that the property will make me the profit I'm looking for," says Hu.
Jan Kot also highlights the importance of Spain's so-called golden visa system, which gives people from anywhere in the world prepared to invest more than €500,000 immediate residency and access throughout the Schengen Area. "Compared to other similar programs, Spain's is the simplest, not just because it costs less, but also because it is very flexible, also, it gives immediate access to free health and education."
The United States, Australia and Canada have recently toughened their immigrant investment policies, boosting interest in Europe. On Juwai alone there are some 15,000 properties for sales in Spain, most of them homes, but also hotels, office blocks, and even wineries.
But Jan Kot says that Spain needs to do more to pull in Chinese investors, and points out that for the moment, they make up barely half a percent of property sales.
Sign up for our newsletter
EL PAÍS English Edition has launched a weekly newsletter. Sign up today to receive a selection of our best stories in your inbox every Saturday morning. For full details about how to subscribe, click here
"Spain needs to increase the number of flights with China, because many investors choose Spain after they have visited the country," says Kot. Hu, who has visited the country several times, complains that he is having problems with the paperwork he needs to complete to set up his business. He also says that legislation on property needs to be translated into Mandarin, as well as pointing out the "lack of transparency" of many realtors in a market he describes as "not well-regulated."
"People have to be patient and understand that there will be some misunderstandings during the purchase of a property, largely due to cultural misunderstandings. It takes time: it's not just about selling a house, but also about building a relationship and winning trust," says Kot.
English version by Nick Lyne.