Cuba's Raúl Castro replaces Economy Minister
Drop in Venezuelan oil imports hits liberalization and investment plans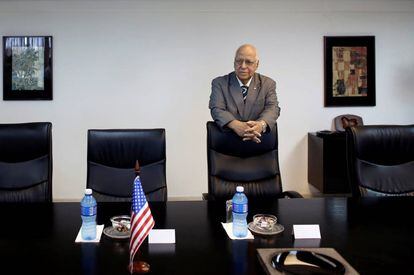 Amid a worsening economic crisis due in large part to the situation in Venezuela, Cuba's President Raúl Castro has sacked Economy Minister Marino Murillo.
Cuba's economy, which is heavily dependent on Venezuelan oil imports, has grown by just 1% over the last year.
Murillo, aged 54, has been a key figure in the reform of Cuba's economy over the last five years. He will be replaced by Ricardo Cabrisas, aged 79, who will now lead negotiations of Cuba's foreign debt.
Some 18 months on from a thaw in relations with the United States, and two years ahead of Raúl Castro's announced retirement, the Cuban government is undergoing a major reshuffle. A week ago, Culture Minister Julián González was replaced by Abel Prieto, while José Saborido has now taken over from Education Minister Rodolfo Alarcón.
The fall in commodity prices means that Cuba will earn less from its sugar and nickel exports, despite growing revenue from tourism and remittances
Murillo was appointed by Castro to lead change in Cuba, along with Vice-President Miguel Díaz-Canel, aged 56, seen as the favorite to take over from Castro in 2018. The regime is moving ahead with policies to liberalize the island's economy by opening up to foreign investment and stimulating private enterprise to kickstart its ailing centrally planned system introduced six decades ago.
Murillo was economy minister between 2009 and 2011, taking over the position again in 2014. He remains a member of the Cuban Communist Party's guidelines commission, responsible for setting economic policy.
A government communique explained his removal on "the need to focus his efforts on the tasks linked to modernizing the Cuban economic and social model. He retains his post as vice-president of the Council of Ministers.
Sign up for our newsletter
EL PAÍS English Edition has launched a weekly newsletter. Sign up today to receive a selection of our best stories in your inbox every Saturday morning. For full details about how to subscribe, click here
But Cuba's plans to gradually transform its economy have been skewed by the worsening economic situation in Venezuela, its main supplier of oil. Imports have fallen by 20% in the first half of this year, according to the Reuters news agency. Murillo told the country's parliament that in the second half of the year, Cuba's shortfall will be around 28%. The fall in commodity prices means that Cuba will earn less from its sugar and nickel exports, despite growing revenue from tourism and remittances. Castro mentioned this last week in parliament, but rejected rumors that the country was headed back to the dark days of the early 1990s after the collapse of the Soviet Union and the so-called Special Period was introduced.
Murillo's response to the island's economic woes is belt-tightening. He told parliament last week that Cubans would have to use less electricity and that the island would restrict payments in foreign currencies. Similarly, he warned against getting deeper into debt: "We do not have cash, but the solution cannot be simply to buy on credit."
English version by Nick Lyne.