GENDER ISSUES
Priest rails against "anatomical DIY projects" for transsexuals
Catholic clergyman in Madrid town says people should accept their God-given body, and criticizes public spending on gender-reassignment treatment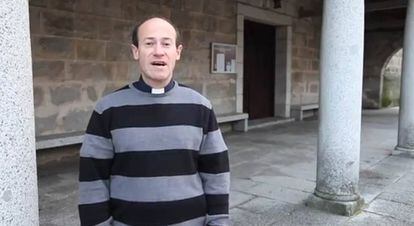 A Spanish priest has angered local politicians and residents of Collado Villalba, a town northwest of the capital, after criticizing new transgender laws and the use of public funds for sex change procedures.
Father Enrique Cabrera, the parish priest at El Enebral, a Catholic place of worship in this mountain municipality, delivered his controversial homily to a packed church on June 13. The town was observing the Day of Saint Anthony, its patron saint.
Sitting in the pews were the mayor, Mariola Vargas of the conservative Popular Party (PP), and Juan José Morales, the Socialist spokesman in the local council. Morales has filed a complaint against the contents of the homily, which prompted some of the congregation to boo and walk out of the church.
That's just what teenagers needed, further disorientation
Father Enrique Cabrera
In his address, Cabrera said that new regional legislation allows individuals "to craft for themselves a tailor-made reality, as though it were bubble gum," without taking God into account, the local daily Voz de la Sierra reported.
He also criticized what he sees as all the attention that the gay community gets from the public health system.
"Medicine stops being therapeutic […] and it wastes resources and time on impossible anatomical DIY projects," he said, noting that no matter how often he himself were to undergo surgery, he will never be able to give birth.
Sign up for our newsletter
EL PAÍS English Edition has launched a weekly newsletter. Sign up today to receive a selection of our best stories in your inbox every Saturday morning. For full details about how to subscribe, click
.
The priest lamented the influence that the Gender Identity and Expression Law, passed on March 17 in the Madrid regional assembly, might have on schoolchildren, confusing them into thinking that personal gender is something they can "choose."
"That's just what teenagers needed, further disorientation," he said.
Cabrera considers that this "aspiration to self-define oneself outside one's own nature" is the result of "a sick and decadent society that has lost touch with reality," and believes that transsexuals should accept their God-given body.
Morales, the Socialist councilor, said that the priest also criticized abortion, saying that society shows its "most decadent" face when it treats children as a threat "to our personal comfort."
The clergyman's final words were for radical Islamists. "If I were one of them, these new laws would make me laugh my head off and rub my hands with glee, thinking: in no time at all, these folks are going to be ours again."
Sources at the local government said that town officials have nothing to say about the matter because "they are the opinions of the Church and the Archbishopric."
English version by Susana Urra.