IMPACT OF THE CRISIS
The immigrants reduced to collecting scrap metal to survive in Spain
Since the crisis began, thousands of migrants have been pounding Spain's pavements in search of junk metal, like Sarra Waly from Senegal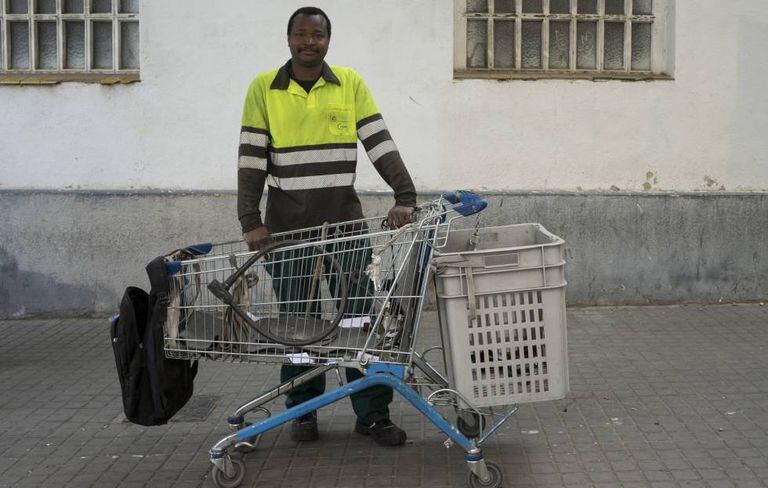 On a good day, Sarra Waly collects around 300 kilograms of scrap metal: that's all he can fit in the shopping cart requisitioned from a supermarket. Sometimes it's so overloaded that it nearly rolls away while he rummages through a dumpster for one more piece of junk.
A good day also means pounding the pavement for up to 30 kilometers for 10 hours, without a break for lunch. But he's become accustomed to the grind, especially when he weighs his daily cache and the scrap metal dealer he works with counts out between €40 or €50.
Sarra has a deal with himself: only when his daughter Fatima, seven, calls from Senegal and tells him she has had her meal, will he allow himself the same luxury Sometimes he doesn't eat until dark
Before he gets his money, though, the scrap has to be broken into small pieces in the warehouse: boilers, screws, bits of computer hardware and pipes. Metallic particles of dust fill the air as the scrap heap grows. This job of disassembling the scrap also falls to Sarra, who, along with thousands of other immigrants, was left jobless when the crisis hit Spain in 2008 and is now scraping together a living collecting refuse.
Barcelona is the capital of this phenomenon, perhaps because there are so many abandoned warehouses in the old industrial neighborhood of Poble Nou where scrap can be stored.
But people pushing shopping carts and carrying a stick to poke around in dumpsters can be seen in just about every Spanish city.
Since the start of the crisis, these ad hoc scrap collectors have been scratching a living from the odds and ends found at Spanish building sites that many of them once worked on.
On the morning that EL PAÍS joined them on the streets of Barcelona, it was clear most came from sub-Saharan Africa. But there were also Romanians, Moroccans, Spaniards, and even a Japanese man who had attached a small dog to his cart.
Some even camp out in the abandoned warehouses they use, or else at one of 40 illegal settlements scattered throughout the city. Others, like Sarra, live in overcrowded apartments in outlying towns like Terrassa or Premià, and pay for the train ride into the city whenever they can.
With the ready availability of Chinese steel and a sharp drop in demand, the value of scrap metal has fallen by a third since 2006. To survive, the scrap collectors have to find ever larger amounts.
Before the crisis struck, the 37-year-old Sarra, who has a wife and child back in Tambacounda, had never paused to reflect on the price that metal was fetching on the London stock exchange, where the value of what he collects is decided.
People pushing supermarket carts and carrying a stick to poke around in dumpsters can be seen in just about every Spanish city
Before the crisis, he was earning €2,500 a month working on the tunnel for the high-speed AVE train in Barcelona. Prior to that, he had worked as a gardener and fruit picker in the southern region of Murcia. As he admits, until the crisis, he had more or less landed on his feet. Even his entry into Spain was blessed with a stroke of luck when a member of the Guardia Civil in Ceuta helped him out.
But Sarra's fortunes turned with the recession and the arrest of his boss, who ran the subcontracted company working on the AVE tunnel: he was charged with deliberately inflating prices and sent to jail. Sarra ended up on the street.
Along with dozens of other scrap collectors, Sarra gets to the warehouse on Juan de Austria Street at 7.30am. He carries a crumpled piece of paper in his pocket with the registration number that allows him to sell what he has to Karim, another Senegalese immigrant who has done well out of the business. The going rate is 13 cents a kilo, making it hard to earn more than €30 a day. "It's just a means of survival," admits Karim.
When he arrives at the warehouse, Sarra puts on his work clothes and wheels out a shopping cart. After covering around 20km, he has the good fortune of stumbling upon 175 kg of scrap from a building site. He then continues looking in every dumpster he comes across, using his bare hands: he doesn't like wearing gloves.
On he walks, not even stopping for lunch. He has a deal with himself: only when his daughter Fatima, seven, calls from Senegal and tells him she has had her meal, does he allow himself the same luxury. Sometimes he doesn't eat until dark. Since he began this work two years ago, he has lost 35 kilograms.
Around 7.2 million tons of scrap a year are sold in Spain, much of it from the trolleys of people like Sarra. Alicia García Franco, director general of the Spanish Federation for Retrieval and Recycling, says, "It's not stealing. They are picking up scrap or bits of broken building material. It is sold at small, legal establisments. These people are effectively cleaning the streets while earning a living."
But organized criminals have now moved in, running small gangs of scrap collectors, whom they drop off in different parts of the city where they work in shifts round the clock. After they're finished, their 'bosses' come to pick them up in vans and pay them a small percentage of the scrap's worth. Ibrahim, a scrap collector from Gambia, works in one such gang. At first, he says, it made sense. But now he is no more than a slave to a group of his fellow Gambians.
In a bid to end the exploitation, the city of Barcelona set up a cooperative a year ago called Alencop, which offered protection to some scrap collectors. At the moment, the scheme includes around 25 people from 10 countries. But it's been a slow start, says Guillermo Rojo, who works as Alencop's coordinator: "We want to avoid those situations by regularizing those people. But we're aware that we are just getting started."
Sign up for our newsletter
EL PAÍS English Edition has launched a weekly newsletter. Sign up today to receive a selection of our best stories in your inbox every Saturday morning. For full details about how to subscribe, click here.
Meanwhile, the scrap collecting continues and, each evening after 6pm, a procession of trolleys is wheeled into the warehouse. At the door, a group of Moroccans are on the lookout for anything of interest that they can sell on. If they see something, they might offer a couple of euros for it.
Once a month, Mohammed takes the ferry to Tangier, his car crammed with these pieces of scrap to resell. He knows almost all the scrap collectors. "It's funny," he says. "There's a lot of talk about refugees and how we have to help them out. And that's true. But sometimes nobody remembers those of us who are already here."
Sarra walks past and he smiles at him from beneath his mustache. Sarra still has an hour of collecting left before he knocks off.
English version by Heather Galloway.