UN peacekeepers in Lebanon running network selling food rations
An investigation has been opened into the resale of products in Lebanese supermarkets
The headquarters of the United Nations Interim Force in Lebanon (Unifil) is currently conducting an internal investigation into fraud related to the resale of troop food rations, which later turn up on supermarket shelves. Alerted by local consumers, the Lebanese Economy Ministry has launched its own probe to find out how these products ended up in retail establishments. Consulted on the matter by EL PAÍS, both the Unifil spokesman, Andrea Tenenti, and the ministry's director general, Alia Abbas, confirmed that the investigations are underway but declined to provide any details, underscoring that the case is classified. "Unifil has taken the appropriate measures, which are internal to the mission, and in close coordination with the UN General Headquarters," says Tenenti in an email.
According to testimony obtained by this newspaper from three international and three local Unifil employees, the clandestine ring involves Lebanese drivers and businesspeople, and also UN peacekeepers in charge of food shipments in at least five of the 21 distribution points that the mission uses to provide food for its 10,000 or so soldiers.
Two sources claim that the profits from the illegal resale of provisions is in excess of €4 million
R. D., a worker for a food-supply subcontractor who was fired on suspicion of involvement in the ring, and another individual who had ties to the underground organization, both claim that the profits from the illegal resale of troop provisions over the last five years is in excess of €4 million.
"Unifil food has been sold in Lebanese supermarkets for decades," says Munir G., a resident of the southern city of Tiro, located 20 kilometers from the headquarters of the UN mission that oversees the ceasefire on the border with Israel. "They don't even bother removing the labels."
But four months ago, one consumer protested after seeing noodles on sale bearing the warning: "Not for sale. For UN internal consumption exclusively" at an establishment outside Beirut called Charcuterie Aun.
Months before that, frozen shrimp packages with the same warning were sold at Al Janoub supermarket, in Tiro. "We lodged a complaint with the consumer protection department at the Economy Ministry," says Sandy Isa, who used the website Al Taharri, specializing in fraud cases in Lebanon. "The products were pulled immediately, but they have not given us any more information to date."
"We've opened an investigation," confirms Tarek Younes, director of the Anti-Fraud and Consumer Protection unit at the ministry. Younes says the case was brought to the attention of the ministry's director general, Alia Abbas. The latter told EL PAIS that details of the case are confidential.
But a ministry worker who spoke on condition of anonymity said that three people from Unifil's Security Unit – the department in charge of internal investigations – visited Abbas twice in the last four months. "They wanted to know what information and evidence there was," said this source.
Between 2006 and 2015, an Italian company named Es-Ko has secured contracts worth billions of euros to buy and distribute provisions to Unifil troops. In 2012 this contractor was awarded €132 million to bring food and water to five UN missions abroad. In order to operate in Lebanon, Es-Ko hired a local company to manage personnel. The Italian firm is responsible for getting provisions from the central warehouse in Kasmiyeh to the 21 distribution points where the various battalions operate. Between 2007 and 2015, R. D. worked for the Lebanese subcontractor and was one of four people in charge of supervising distribution under Es-Ko's orders. His superior was transferred elsewhere after his contract in Lebanon ran out. Both employees in charge of the driver team left the country after being fired and accused by the company of participating in the clandestine trading.
In 2010, R. D. reported the irregularities he had observed to his immediate bosses and to Es-Ko. "They told me that they needed proof, so I decided to make my colleagues believe that I was going to take part in the fraud," he says, insisting that he never personally profited despite being accused of it by his employer.
They told me that they needed proof, so I decided to make my colleagues believe that I was going to take part in the fraud Former food-supply worker R. D.
R. D. says that the ring was operative between 2010 and 2015. Testimony obtained from six local and international Unifil workers, both civilian and military, confirms R. D.'s claims. These other sources pointed at international soldiers in charge of receiving food shipments at five distribution points under the command of the battalions from Italy, Ghana, Nepal, Malaysia and Indonesia.
Far from being an isolated case, these six workers, who have ample experience at the mission, indicated that this is a deep-rooted system. The soldiers in charge of signing for food shipments at each distribution point are substituted every four to six months. This rotation means at least 50 peacekeepers have held the position between 2010 and 2015.
Confidential UN reports revealed by WikiLeaks discuss earlier fraud cases at the Lebanese mission, where an internal audit from 2007 found that "senior officers of the contingent of one troop-contributing country, including the Commanding Officer, had put into place a system whereby they fraudulently overstated their fuel requirements by making false statements about their travel activity and forging data about fuel consumption by generators. The senior officers then sold the excess fuel thus generated to local buyers. They also sold United Nations rations to local shops and supermarkets, using local and contingent interpreters as middlemen."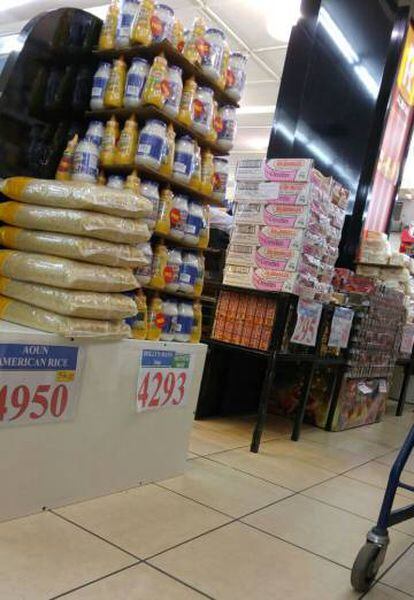 The estimated loss incurred by the United Nations as a result of these and other illegal activities was $1.5 million [€1.35 million], according to this report. A 2009 audit confirmed the bad practices.
Sitting inside a Beirut café, R. D. details the way the system works. Each battalion's purchase orders are received at the central headquarters where Es-Ko operates in partnership with a Unifil official. The food rations are distributed weekly by subcontracted drivers who use seven trucks with a load capacity of 80 tons. Products are divided into frozen goods (mostly imports), dry food, and fruit and vegetables bought in Lebanon. The doors of the trucks are sealed upon exiting the warehouse using a code that is reflected in the delivery slip. These documents detail the amounts and products that were loaded onto the trucks and they have to be signed by the soldier in charge of accepting the shipment, after checking the contents. Two workers confirm that these delivery slips were signed and therefore authorized by Unifil soldiers at reception points during these years.
"Before leaving the warehouse, drivers send delivery messages through WhatsApp to the UN peacekeeping troops in charge of the distribution points, who check them against existing stock at the bases. Afterwards, they tell the driver which products and amounts will remain in the truck after unloading the necessary items," says R. D. After leaving the military base, drivers sell off this remainder to local buyers with whom they have previously negotiated a price.
"We're talking about at least €13,000 a month per distribution point," estimates R. D. These figures affect five of the 21 distribution points, and represent €4 million over the course of five years, or 5.7% of the annual budget of €14 million earmarked for provisioning Unifil soldiers.
A Lebanese worker who participated in the scheme, and who spoke on condition of anonymity, confirmed this figure and said that the profits are shared out among international soldiers and Lebanese drivers.
A Lebanese worker said that the profits are shared out among international soldiers and Lebanese drivers
"It's not fraud, but rather a business using excess food and whose income can double or triple the monthly salary of €870 that drivers make," says this source.
As for the shop owners, they obtain a high-quality product, tax-free, and for prices that are as much as 50% below their real value, according to a confidential UN report investigating a similar pattern in Liberia and disclosed by WikiLeaks.
After identifying decomposing stock lying in warehouses, several UN audit reports noted that there is an excess of food rations destined for troops. This recurring surplus encouraged the development of a clandestine food diversion network that has proven very lucrative to a handful of international soldiers and local workers in the distribution chain.
Ghana (which has 870 peacekeepers) and Italy (with 1,206 troops and currently at the helm of the detachment) are the most active battalions in this illegal resale, sources said.
This newspaper attempted to reach the heads of the five battalions mentioned by the sources, as well as Unifil's Food Rations and Internal Security departments. All queries were systematically channeled to the Unifil spokesman in Lebanon, Andrea Tenenti, who replied in an email and declined to provide any details, alleging that "we cannot speculate until the investigation is completed."
38 years in Lebanon
March marked the 38th anniversary of the UN presence in southern Lebanon. Deployed below the Litani river, 10,500 soldiers and 1,000 civilians from 40 countries perform peacekeeping duties along the border with Israel, a place where Hezbollah operates.
Unifil has helped reduce violence in a border area that has seen 15 years of civil war and 18 under Israeli occupation. The last conflict dates back to 2006, when confrontation between the Israeli army and Hezbollah killed 1,191 people, most of them Lebanese civilians.
Spain has been participating in the mission since 2006 and contributes 612 soldiers. It is also one of the candidates to take over from Italy at the helm of the detachment.
"On one occasion, just a few days after a delivery, Ghana soldiers began complaining that they were hungry because their refrigerators were empty," says R. D. "An internal probe was launched in the Ghana battalion after noodle packages were resold to local stores," adds a Unifil worker. "It turned out that the Malaysian soldiers resold the noodle surplus thanks to mediation from Ghana peacekeepers, who have a wide network of local clients."
In response to an email query dated March 24, 2016, Eleanor Burns, director of the UN Office of Internal Oversight Services (OIOS), directed this newspaper to the annual audit reports available since 2013 on their official website. However, these reports are not accessible. According to three international and local Unifil workers, the internal audit initially scheduled for September has begun six months ahead of time, and it is being "unusually comprehensive compared with previous years" The reiterated fraud highlighted by internal reports shows the need to implement oversight measures to control the real state of fuel and food stocks.
Typically, local sellers are most interested in frozen goods because of their higher retail sale price. Shrimp is in high demand. This product led to the current investigation after UN shrimp rations were found inside local supermarkets. The annual budget for shrimp consumption by peacekeepers is nearly €500,000.
On April 9, 2015, R. D. and two other distribution-chain supervisors were fired when Es-Ko and the subcontractor began taking measures against a fraud that had been reported five years earlier. R. D says that no UN soldier has contacted him in connection with the ongoing probe. Until now, there is no evidence that any soldier has been sanctioned. But the Italian company and the suspect drivers continue to work as associates of the Kuwait company KGL, in charge of supplying food to Unifil since 2014.
English version by Susana Urra.