Graft case suspect cites "widespread corruption" in Madrid suburb
Builder investigated in Púnica probe says he bought land in Valdemoro and had the mayor rezone it
One of the main suspects in the Púnica graft case has told the investigating judge that corruption  in the Madrid suburb of Valdemoro between 1999 and 2011 was "widespread."
Construction company owner David Marjaliza said he and a colleague would buy land, which would then be rezoned by his childhood friend Francisco Granados, the local mayor and later a major figure within the Madrid branch of the Popular Party (PP).
In a 13-hour testimony before High Court judge Eloy Velasco, which EL PAÍS had access to after it was declassified, Marjaliza explained that Granados took a 20% cut from every deal. Marjaliza, along with fellow builder Ramiro Cid Sicluna and Granados, created a joint company for this purpose.
Francisco Granados was once a top aide to former Madrid premier Esperanza Aguirre
"We put up the money, we bought the land, and Paco [Granados] rezoned it," said Marjaliza in a court deposition in June 2015.
According to Marjaliza, Granados and his successors in the mayor's office received between €3,000 and €6,000 for every housing unit that was built.
Located 27 kilometers south of the capital, the town of Valdemoro is part of the Madrid Metropolitan Area and has experienced significant growth in the last 15 years. Francisco Granados was mayor there between 1999 and 2003.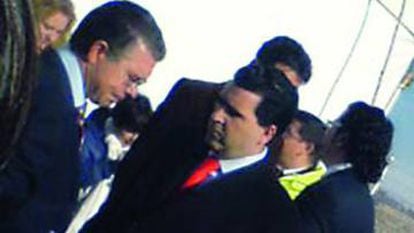 The Púnica ring was broken up in late October 2014 with the arrest of dozens of people in several provinces. Púnica leaders are believed to have unlawfully awarded as much as €250 million in public contracts in exchange for kickbacks from construction companies.
Considered a flight risk, Francisco Granados, once the regional transportation chief and secretary general of the PP's Madrid branch, has been in prison since the scandal broke.
The investigation began when it was discovered that Granados and Marjaliza had Swiss bank accounts containing a joint €5.8 million. The origin of that money has not been established, but investigators suspect it could be the fruit of the illegal commissions charged for years through the bid-rigging scheme.
Sign up for our newsletter
EL PAÍS English Edition has launched a weekly newsletter. Sign up today to receive a selection of our best stories in your inbox every Saturday morning. For full details about how to subscribe, click here.
Marjaliza's decision to cooperate with the investigation has saved him from prison so far. "I have lost eight months, but little by little I am going to remember," he told the judge.
Judge Velasco asked the builder for details about a variety of suspect activities, including contracts awarded by the city of Valdemoro for cafeterias and bars, real estate deals, financial transactions in Singapore involving artwork, the use of a yacht used by ring leaders, casino operations, and business trips.
The case mostly affects PP conservatives, although there are a few Socialists under scrutiny as well, including two former mayors of the Madrid dormitory town of Parla.
Granados, considered the mastermind behind Púnica (so named because punica is Latin for pomegranate, and granados means pomegranate trees in Spanish) was once a top aide to former Madrid premier Esperanza Aguirre.
Aguirre, a veteran PP figure, is not an official suspect in the case, but in February of this year she announced her surprise decision to resign as head of the Madrid branch of the Popular Party (PP), citing the raft of corruption cases affecting the conservative party.
English version by Susana Urra.