Corruption and territorial policy: the key obstacles to cross-party deals
Podemos comes up with new proposal for Socialists after a week stuck on the sidelines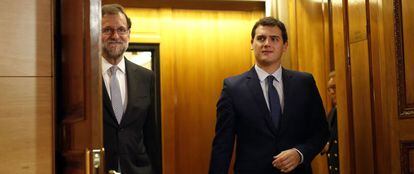 Territorial policy, constitutional reform and the fight against corruption are three major stumbling blocks on the road to cross-party consensus among Spain's main political groups.
With parties scrambling to reach deals following the fragmented scenario that emerged from an inconclusive election on December 20, the talks are serving to highlight differences as much as to underscore similarities.
The PSOE and Ciudadanos are working on a list of anti-corruption measures but the PP has barely mentioned the issue
On one hand, the incumbent Popular Party (PP) and the emerging Ciudadanos, whose leaders met on Thursday, clearly defend national sovereignty and oppose a self-rule referendum in Catalonia.
The Socialist Party (PSOE) in theory agrees, but has provided no details about how it plans to deal with separatist sentiment other than to talk about the need for a different state structure in Spain.
Meanwhile, the Socialists and Ciudadanos are already working on a list of anti-corruption measures while the conservatives barely mention the matter in their negotiation documents. Both parties also agree that the 1978 Constitution needs some tweaking, while the PP has been stalling on this point.
The small, pro-market Ciudadanos is trying to mediate between both traditional parties to create a governing pact that will get a new executive up and running, nearly two months after the general election was held.
After the winning candidate, acting Prime Minister Mariano Rajoy, refused to bid for reinstatement because he lacked sufficient congressional support, the election runner-up Pedro Sánchez, of the PSOE, was tasked with forming a government of his own. Both leaders are scheduled to meet later Friday.
The investiture session to vote in the new prime minister of Spain will likely be held in early March. But so far, nobody has garnered enough backing to ensure a successful bid. If no new leader emerges, Spain will be forced to hold fresh elections later this year.
The anti-austerity party, which came in third at the election, wants to create a leftist three-way coalition with the Socialists and the small United Left group. Podemos leader Pablo Iglesias has expressed a desire to be Sánchez's deputy in such a government.
But the party's defense of self-rule referendums in Catalonia, Galicia, the Basque Country and Valencia is coming up against a wall of rejection from the PP, PSOE and Ciudadanos.
Iglesias further irked the Socialist leader by telling him that he had to choose between Podemos and Ciudadanos, as the anti-austerity party refuses to be at the same negotiating table as last year's other emergent party.
After being left out of cross-party talks for a week, Podemos leaders are now seeking to take back the initiative with a new offer
After being left out of cross-party talks for a week as a result of this attitude, Podemos leaders are now seeking to take back the initiative with a new offer.
This new proposal shifts the focus to social policy in a bid to highlight common ground with the PSOE. And while it no longer openly rules out Ciudadanos as a negotiation partner, the anti-austerity party hopes to underscore the differences between the pro-market Ciudadanos and the Socialists, thus bringing the latter closer to Podemos again.
"They [the Socialists] are closer to us than they are to Ciudadanos, so it will be easier to reach agreements," said Alberto Montero, Podemos's chief of economic affairs.
English version by Susana Urra.