BUSINESS
Founder of Pamplona souvenir firm Kukuxumusu fired by new owner
Creator of world-famous Running of the Bulls cartoon designs already has a new venture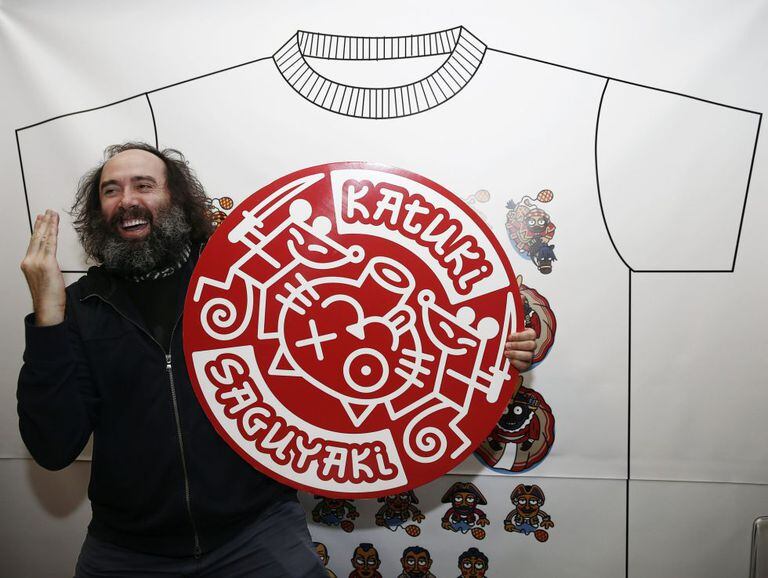 There are few visitors to Pamplona who have not taken a picture of a digital clock counting down the days, hours and minutes left until the next Sanfermines, the annual local festivities that incorporate the world-famous Running of the Bulls.
The clock is placed over the door of the flagship store of Spanish firm Kukuxumusu, at one end of Estafeta street, part of the route that the bulls run along each morning for a week every July.
"Kukuxumusu is more than just one name or one artist," says the new management
Kukuxumusu, which means "flea's kiss" in the Basque language, is one of Spain's most recognizable brands thanks to its humorous and irreverent drawings, often depicting animals in human-like situations. Its designs, printed on shirts, mugs and all kinds of accessories, also often make reference to popular culture and current affairs.
But now, after a 27-year history, the founder and creative mind behind Kukuxumusu has been fired from his own company.
Mikel Urmeneta says he had a terrible argument with the company's new majority stakeholder, a communications consultant named Ricardo Bermejo, in late 2015.
"I ended up ripping the computer right off his desk," Urmeneta says.
Since then, both men have been communicating exclusively by bureaufax.
And it was through a fax message that Urmeneta learned that his contract was being rescinded, although he retains a 33% stake in the company. The other two founders sold their stakes to Bermejo a year and a half ago.
Undaunted, the former artistic director of Kukuxumusu on Thursday presented his new brand, Katuki Saguyaki, a play on words that he defined as "cat food, mouse delicacy."
The name, the logo and the designs that Urmeneta unveiled at the presentation are all reminiscent of the early Kukuxumusu cartoons with most of them focusing on the Sanfermines.
Urmeneta also revealed that he has forged partnerships with Spanish band Estopa, science popularizer Eduard Punset and chef José Andrés, among others. He has also hired the cartoonists that have been working with him at Kukuxumusu from the beginning.
"Kukuxumusu's DNA is disappearing," said Urmeneta, adding that the new majority stakeholder "bought a new toy without reading the instructions."
Urmeneta has always been the public face of Kukuxumusu. The company enjoyed a golden decade starting in 2000, before going into crisis and being forced to close stores, fire workers and eventually finding a new investor in 2014.
Ricardo Bermejo is a communications consultant whose career is closely linked to the Caja Navarra savings bank. Between 2004 and 2012, when the lender was bought by Caixabank, Bermejo's agency received €10 million from Caja Navarra for its communications services.
The new majority stakeholder "bought a new toy without reading the instructions"
In the meantime, Kukuxumusu has come out with its own press release giving its version of events.
"Mikel Urmeneta walked into the offices one day with a threatening and violent attitude towards his partner, the manager and the other company workers, and in their presence issued threats against his partner, insulted the manager and threw a computer against the floor; he demanded the immediate payment of his monthly checks, which were delayed two months due to a temporary lack of liquidity; he put his own payment ahead of his employees' paychecks."
The company also says that Urmeneta was fired because he was not being productive enough. "Most of his contributions generated significant expenses, minimum income, negative management results and disappointment among team members."
Kukuxumusu will retain ownership of all existing designs, but cannot modify them without consent from their authors. This means that adapting these designs to current affairs, as the brand has always done, will be complicated.
It remains to be seen whether the new management is right when it says that "Kukuxumusu is more than just one name or one artist."
English version by Susana Urra.