Ex-Catalan premier and wife named as targets of money-laundering probe
Jordi Pujol and Marta Ferrusola subpoenaed to appear on February 10 before High Court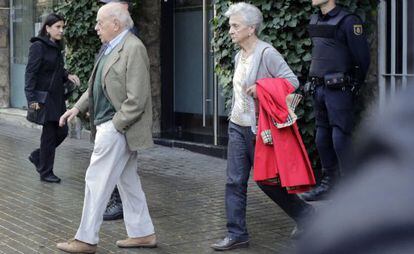 Former Catalan regional premier Jordi Pujol Soley and his wife Marta Ferrusola have been subpoenaed to testify before the High Court in February as targets of an investigation into ongoing money-laundering activities by the couple.
Judge José de la Mata told the pair that they had to appear on February 10 as part of his corruption inquiry against their oldest son Jordi Pujol Ferrusola.
The High Court has assumed jurisdiction in a case that had been originally opened by a Barcelona judge against the elder Pujol after the former Catalan leader admitted publicly that he had offshore bank accounts with a considerable amount of money in Andorra.
Pujol Soley had admitted in a public letter in 2014 that the money actually belonged to his father, Florenci, who made the money on the currency black market during the Franco dictatorship and left the fortune to his grandchildren. He has denied that the source of the money came from corrupt activities during his 23-year stint as premier.
About a month ago, the High Court prosecutor asked the judge to put Pujol Soley and Ferrusola on the stand as targets of an investigation regarding a €1.8 million account held in Andorra and in which they were suspected of "participating in money-laundering crimes."
In a more than 200-page writ, Judge De la Mata said that Jordi Pujol Ferrusola and his ex-wife, Mercè Gironés Riera, are cosigners of checking accounts that they denied existed.
The investigation uncovered a pattern of suspicious deposits and withdrawals by members of the Pujol-Ferrusola family.
According to court papers, accounts belonging to Pujol Ferrusola and his ex-wife reflect deposits "that cannot be associated with a legal activity." The accounts also showed transfers made by persons who have been identified as businessmen who are connected to the public sector in Catalonia.
Some of those funds, according to the judge, were distributed by Pujol Ferrusola to his mother and siblings: Oleguer, Oriol, Josep, Pere, Mireia and Marta Pujol Ferrusola.
"These operations again reveal the existence of a behavioral pattern that took place for years by members of the family, and point to new basic elements of an organization whose definite profiles […] are still under investigation and on the verge of being clarified," the judge wrote.
Pujol-Ferrusola was also subpoenaed to appear on February 11 – the day after his parents.
English version by Martin Delfín.