IMMIGRATION
11 African migrants drown trying to reach Canary Islands by boat
Fewer undocumented travelers now attempt to journey from west Africa to archipelago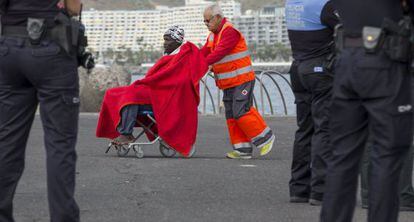 Eleven people drowned on Monday after trying to reach the Canary Islands on a migrant boat, according to reports by Moroccan authorities.
A Moroccan navy ship found the bodies floating near the spot where the vessel sank, 147 kilometers south of Cape Bojador, in Western Sahara.
The migrant boat capsized as a result of bad weather conditions, according to sources who spoke with the Moroccan news agency MAP.
The route that ends in the Spanish archipelago was the most active immigration corridor until 2008"
Ana López-Sala, researcher
For the last two days, Spanish rescue services had been searching for a boat that had gone missing with 39 people aboard.
That vessel had departed on Monday from a spot located 100 kilometers south of Bojador, and rescue workers suspect that the 11 dead migrants were probably aboard it.
The Canaries migration route has returned to the spotlight in recent days after the Spanish coast guard rescued a boat carrying 51 passengers on Sunday and another one transporting 47 people on Monday.
"The western African route, which ends in the Spanish archipelago, was the most active immigration corridor until 2008, but the volume has decreased since then," writes Ana López-Sala, a researcher at the Spanish National Research Council (CSIC), in a November report published by think tank CIDOB.
According to Interior Minister figures, 296 undocumented migrants reached the islands in 2014, up from 196 in 2013. But both figures are a far cry from the 31,678 arrivals registered in 2006.
"Migrant interception along this route has reached a very low number, which allows us to say that it has effectively been deactivated," writes López-Sala.
English version by Susana Urra.