Catalan premier fails in first attempt to secure new term in office
Artur Mas unable to attract votes from his CUP partners, but gets another vote on Thursday
Acting Catalan premier Artur Mas on Tuesday failed to garner enough support in the regional parliament to secure a new term in office following the September elections.
Despite efforts to cast himself as the independence movement's "biggest asset" and suggesting that if he goes, the breakaway process could be compromised, Mas failed to convince members of CUP, the small far-left pro-secession party that holds the keys to power but wants someone else at the helm.
I will not be premier at any price"
Artur Mas
In fact, CUP did not even wait for deputies to vote on Mas before proposing another candidate, Raül Romeva – an independent who ran as the top candidate for the Junts pel Si coalition, the winner of last month's election.
Following the day-long debate, the 62 deputies for Junts pel Si – whose main members are Mas's own Democratic Convergence of Catalonia (CDC) party and the Catalan Republican Left (ERC) – voted in favor of Mas. But the other 73, including the 10 CUP representatives who in theory back Junts pel Sí's independence plans, cast a negative ballot. Mas needed an absolute majority of 68 votes to be confirmed as the new premier in this first session.
While the struggling leader will get a second chance to attract supporters on Thursday, when all he will need is more yes votes than no votes, yesterday's investiture debate underscored the division within the separatist camp, where many people associate Mas and his party with corruption and social cuts.
During the debate, Mas was forced to respond to accusations from all opposition leaders in the chamber, including Ciudadanos, the Catalan Socialists, the Popular Party (PP) and the Podemos-backed Catalunya Sí es que Pot.
But perhaps most notable was the standoff between Mas and Antonio Baños, leader of the anti-capitalist CUP, whose support is essential to the separatist drive.
Quoting the Catalan writer Salvador Espriu, Baños asked Mas to step aside and let another candidate lead the way: "Sometimes, a man has to sacrifice himself for the sake of the people, but the people should never sacrifice themselves for one man."
"It is detrimental for the Catalan republic to identify the country with a single person," added Baños, making a reference to CDC founder Jordi Pujol, a towering figure in Catalan politics and the target of a criminal probe for tax fraud and corruption.
"When we were told that Pujol was Catalonia, that derived into a system where the person, the country, and the party were all one and the same," said Baños.
If CUP votes against Mas as expected on Thursday, a two-month period will open up during which an agreement will have to be reached to avoid fresh elections being held – a scenario that separatists want to prevent at all costs. During that time Spain will be holding a general election on December 20 that could have a direct impact on the Catalan secession drive – and vice versa.
So far, Mas has given no sign that he plans to step aside, but on Tuesday he stated that "I will not be premier at any price."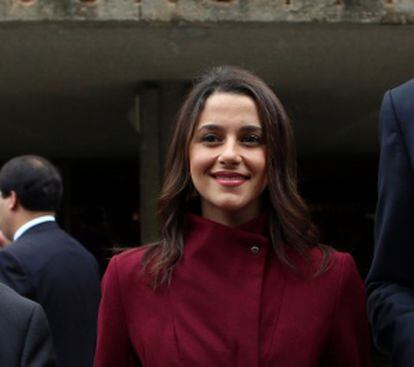 Ciudadanos
Inés Arrimadas, head of the main opposition Ciudadanos – a unionist party that came in second in the regional election – accused Mas of bad management ever since he first came into office in 2010. She said he had only embraced the independence cause after his party began struggling with corruption cases.
"You cannot be premier when you don't even talk about corruption. What happened to turn Mas and Pujol into the biggest champions of independence? Could it have anything to do with the legal proceedings? Is it a coincidence, or cause and effect?" she said.
The Socialists
Miquel Iceta, head of the Catalan Socialists, reminded Mas that Junts pel Sí and CUP together attracted slightly less than 48 percent of the vote at the election, even though the voting system granted them a majority of parliamentary seats.
"You want to reach independence when not even half of Catalans want it," he said, asserting that his party will not vote him in again. "Your political moment has come and gone."
Catalunya Sí que es Pot
Mas also heard criticism from the leftist alliance Catalunya Sí que es Pot, which defends holding a legal referendum in the region before moving any further down the road to independence.
Group leader Lluis Rabell said the recently approved separatist motion signaling the beginning of the break with Spain has fractured Catalan society.
He said: "You should go into the opposition. A party like yours cannot lead the process. You desperately need to hold on to power."
The Popular Party
Xavier García Albiol, head of the conservative PP in the region, accused Mas of acting with "hatred and lies" towards Spain. He also criticized him for seeking support from "an outlandish and radical party like CUP."
"Will you really reach deals with a group that wants to take us out of the markets, out of the EU and out of the euro?" he asked, before ironically suggesting that Mas should work with the Socialists or Ciudadanos instead. "Not with us, because we're really evil."
In his most vehement speech of the day, Mas retorted by accusing the PP of "sowing the seed of discord" across Spain. He also described Spain as a state "with low democratic quality."
English version by Susana Urra.